Learning the Ropes of Starting a Business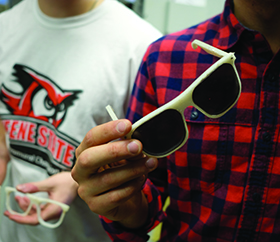 Keene State's Sustainable Product Design and Innovation program, known as SPDI, takes the stance that manufacturing should be equally focused on sustainability and profitability. That's one of a number of lessons that lead SPDI students to succeed in the program's capstone course, Manufacturing Enterprise.
Students in the course are required to use the cumulative skills that they acquire in the major to conceptualize, produce, and sell a product of their choosing. One such group comprises six students whose idea for a product requires nearly no new materials to create.
The team, made up of Ryan Milewski, Jesse Brown, Will Hadden, Ethan Cyr, Caroline Stapleton, and Gabby Brzozowski, conceptualized the idea to make pairs of sunglasses from materials recycled from the Keene State campus.
"After picking the idea, we started thinking about how this could have an impact on the world if it were to take off," says Milewski. "That's something that we keep in mind a lot in SPDI because you're always thinking about your product life cycle. We thought it would be really cool if we could make a pair of sunglasses out of recycled plastic material."
Even with the prevalence of reusable containers for drinking, it hasn't been an easy task for the students to obtain enough recyclables to make the sunglasses. It's taken some hand-dirtying to acquire the materials needed.
"I go dumpster-diving two or three times a week at the recycling center, and we look for different material that is made up of No. 2 high-density polyethylene, which is the most commonly used plastic in recyclables," Milewski says. "We cut and then shred the material, and then Ethan uses a press mold to make blocks of our own stock material." They use computerized machine tools to cut the shape of the frames.
Once the frames are cut, the lenses and hinges are purchased from outside vendors and the glasses themselves are assembled on campus. Glasses cases are being made from recycled T-shirts to accompany the sunglasses. Then, it's on to sales.
"Marketing and selling of the product is all left up to us, so we have to make a plan to market the product. We do have a small amount of departmental funds to use, but we have to reimburse the funds at the end of the semester from the sales of the product," says Milewski. "We've had a lot of interest from friends on campus for things like holiday gifts. Any time I tell people what we're doing, they seem really interested and they're spreading the word for us."
Just like in the real world, metrics on labor and input cost are calculated into the cost of producing the final product. Even if there's no labor cost going into this run, it will be an important factor in the students' careers. Equally important is the entrepreneurial inclination required to get a project like this moving.
"We have to keep time cards for the number of hours we use to make the product, and we're doing things like making Gant charts to be sure we're on target for what we're doing, time-wise. Plus, we're getting the manufacturing skills that we'll be using in the real world after we graduate," says Milewski. "I think it's a really good experience because you're not going to be told how everything works, and sometimes you're just going to need to figure it out yourself – and that's what this class is doing."
– William Wrobel '11
Related Stories