Pete Stephens '67: Making a Difference in Fitchburg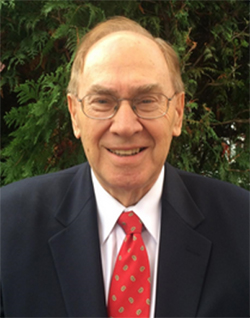 Seventy-eight years young, Pete Stephens '67 has a Peter Pan-like attitude when it comes to work and helping students in his adopted hometown of Fitchburg, Massachusetts. "I'm never going to grow up. I like staying active," said Stephens.
Stephens refuses to stand still. In a career that spans decades, not to mention several schools and a variety of positons in the district, Stephens has worked hard to make a connection with students and the community. In fall of 2016, he received the Division IV All-State School Committee Award for contributions to public schoolchildren from the Massachusetts Association of School Committees.
Stephens, who has worked as a teacher, administrator, and most-recently school committee member in Fitchburg, demonstrated his drive and determination even as a student at Keene State when he took classes despite holding down a fulltime job and having to commute each day from his hometown. Deciding to major in elementary education after enjoying his experience working with children at his local YMCA, Stephens loved Keene State's campus community. "Keene State was a great school to attend. You got to know everybody, including the professors," said Stephens, who recalls having a cup of coffee with his teachers in the campus club.
A highly-regarded three-sport athlete at Fitchburg High School, Stephens also made a name for himself playing baseball and soccer at Keene State. "I was 6-feet tall and 230 pounds when l played fullback," he said. "Guys didn't like to tangle with me."
Stephens taught sixth grade in Fitchburg for four years, before moving into administration. Returning to Keene State in 1971 to earn a master's degree in education administration, Stephens began an administrative adventure that included stops throughout the district. Serving as both a vice principal and principal during his career, Stephens was noted for his organizational skills and his ability to step in some difficult situations and provide order and discipline. "I could always listen to kids and understand their problems," said Stephens, whose own upbringing enabled him to form a special bond with his students.
Stephens wasn't the only one in the family to work in education. His wife Claudia, who was a varsity cheerleader and member of the drama club at Keene State, also taught in Fitchburg for 33 years. Her ties to the College include her mother Marion who was a 1926 graduate of Keene Normal School, before it became Keene State College.
Although he planned to retire in 2002, Stephens kept on working, serving as a substitute administrator at several schools as well as the headmaster at the Fitchburg Arts Academy. Stephens was recently named to the Fitchburg High School Hall of Fame and included in the Fitchburg Sentinel & Enterprise's list of 2016 memorable local people. He continues to connect with the community. He also finds time to serve as the Fitchburg member of the CAPS Collaborative Board of Directors, a group that provides educational services for students with special needs in central Massachusetts. "It feels really good to make an impact in the place you call home," he said.
Related Stories