Keene State College Named a 2017 US Department of Education Green Ribbon School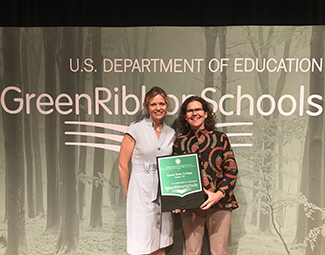 Keene State College today announced that it is one of nine 2017 US Department of Education Green Ribbon Schools Postsecondary Sustainability Awardees nationwide. Keene State is the only educational institution to be selected for the award in New Hampshire. The College was recognized for its comprehensive approach to sustainability and well-being, including an integrative suite of campus-wide policies and plans; successes like the LEED Platinum certified academic building, the TDS Center; our state-of-the-art green residential hall the Living and Learning Commons; and the use of carbon neutral waste vegetable oil heating fuel. Keene State was nominated by the New Hampshire Department of Education.
"This recognition illustrates the college-wide commitment to sustainability and well-being throughout our entire community," said Keene State College President Anne E. Huot. "Most importantly, our sustainability initiatives are important tools for educating our students; our country's future leaders. I am thrilled to be able to share this honor with the entire Keene State community."
Highlights from the Dept. of Ed's report (available online) note that the "Keene State College story traces a strong, and deepening, commitment to environmental stewardship, sustainability, and health and wellness in all phases of campus life and the community." Keene State College's highlights begin on page 109.
"We are pleased Keene State College is being recognized among the schools in the country that are achieving cross-cutting goals for education, including improving student, staff, and facility performance as well as efficiency at the federal, state, and local levels," said Commissioner of the New Hampshire Department of Education, Frank Edelblut. "This is a testament to the hard work being done by students, parents, educators, and everyone who plays a role in the education of our children. We are extremely proud to have Keene as a Green Ribbon School."
The honorees were named from a pool of candidates nominated by 28 states and the Department of Defense Department of Education Activity. The postsecondary honorees include three career and technical and community colleges. Across the country, 45 schools, nine districts, and nine postsecondary institutions are being honored for their innovative efforts to reduce environmental impact and utility costs, improve health and wellness, and ensure effective sustainability education.
Related Stories