Two SPDI Students Win Fenton Family Dealerships Design Award and Scholarship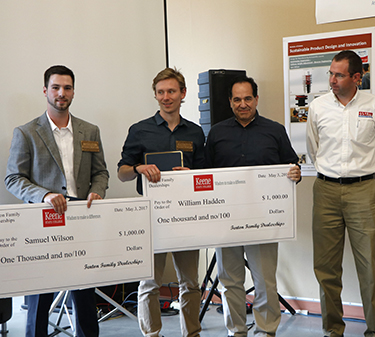 Sustainable Product Design and Innovation (SPDI) majors Samuel Wilson and William Hadden received the Fenton Family Dealerships Design Award and a scholarship of $1000 each at the SPDI program's annual Senior Portfolio Presentations on May 4.  
Fenton Family Dealerships representatives Bob Swartz and George Thompson were on hand to present the awards. Wilson's winning project is entitled, "Design of a Speed Driver for Easier Height Adjustment on Aftermarket Suspension for a Honda Civic," and Hadden's is "Redesigning and Creating an Exhaust Header System as Part of a Volvo 240 Engine Rebuild."  
Swartz expressed his pleasure in making these awards for the second time to SPDI students, noting that "the students showed excellent creativity and technical skill in their design work." He also thanked Dr. Lisa Hix for her leadership of the SPDI program, which is "an unmatched and vital resource for regional advanced manufacturing."
Related Stories