Film Major Evan Moniz '17 Ready for Practical Magic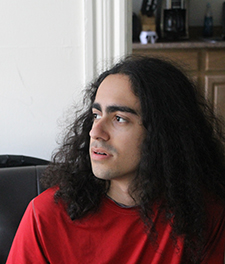 Right after he received his degree in Film Studies, Evan Moniz '17 headed off to Hollywood to work for Practical Magic, a production studio that provides full-service studio-level media production for television, motion picture, and virtual reality. Having a cousin who married one of the company's partners was a big help, but the diverse experience he received in Keene State's Film Studies program also gave him the skills that caught his employer's interest and made him able to take on whatever roles Practical might expect of him.
Though he doesn't know exactly what his new job will entail, he's confident he's up to the task. "I can help where I am needed, whether as a production assistant or other entry-level work. My time here at KSC has prepared me for this opportunity by giving me a basic knowledge of most aspects of the film industry. Being prepared so broadly is a huge door opener.
"The production courses at Keene give a good basis for learning about a wide variety of positions on a crew – and that's especially true of the production capstone course. Having the basics for so many positions allows students to apply for whatever job they find in the industry; they can grow and expand their skills from there. Having a willingness to learn as much as you can is so extremely important, and having knowledge of so many aspects of film allows for a lot of learning and growth out in the field. All of this has really helped me for working with Practical Magic. I can work in any area that I am needed – I'm not limited to one specific aspect, so more opportunities are open to me. Learning all of this really helped me prepare and be ready for whatever the industry has to throw at me."
Related Stories