Mother and Daughter Sharing Commencement as Members of Class of 2017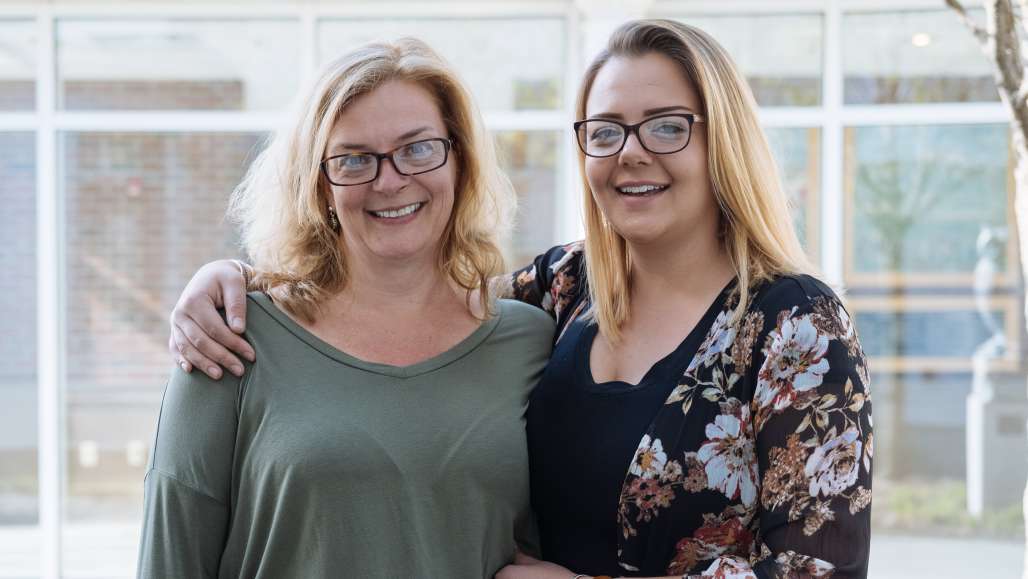 A mother-daughter duo made a pact that if they graduated from Keene State at the same time, they would walk across the stage and receive their diplomas together. On May 6, they'll fulfill that commitment.
By chance, Heather Madden is completing her a degree in Safety and Occupational Health Applied Sciences, and her mother, Dianna Madden, earns her degree in Management at the same time. Dianna returned to school part-time on the suggestion of her employer, Corning, while Heather began her full-time experience at Keene State as a student out of high school.
While Heather planned on taking part in the Commencement ceremonies, Dianna had less interest in the festivities and planned to pass. Heather said she struck up a deal that if they were to finish, they would finish together because of what that trip across the stage signifies.
"I was pushing for my mother to walk with me, because a lot of my older friends decided not to walk, and when looking back, they wish they had. It's not even about having the crowd cheering for you. It's about the official recognition that you've done it, and for us to walk together shows that," said Heather.
Dianna agreed with Heather's sentiments, and also added her own motivation.
"Commencement is the culmination of all the work I've put in, and participating is my way of honoring the deal I made with her. We shook on it and the reality is, if I don't keep the deal I made with her, then how will she trust that anyone will ever honor a deal?" said Dianna. "For me walking at Commencement is also about making sure I'm following through on the commitment I made to her."
The mother and daughter had the pleasure of one another's company in school, and they also spent the summer together at Corning. Heather interned as an assistant manager of Health and Safety and Dianna manages the assembly and coding departments.
"I loved it. I'm glad that I did my internship with them not only because they're such a huge company but also because I gained a lot of experience in that facility," said Heather. "Normally in bigger companies, I would have been interning with a safety team, but at Corning I was working directly under the manager for the whole plant. I got to know a lot of people in the facility because I was out in the facility every day doing safety work."
After graduating, Dianna will continue working at Corning, and Heather will be heading to Nashville to live with her sister. Both women will have the memory of receiving their diplomas from Keene State at the same time on the same stage.
"It's important to be proud if you're a nontraditional student. It's okay to have pride and cross the stage and show people that you can do this at any time and there's nothing stopping you," said Heather.
Related Stories