Theatre and Dance's Skill-building Program at Walpole School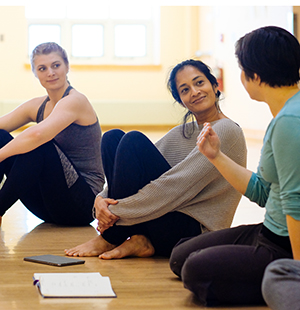 Some 17 years ago, Keene State's recently retired Dance Program Director Marcia Murdock began working with then-Hinsdale (NH) Elementary School Counselor Glen Stan on an after-school dance program. The program gave KSC students (usually, dual Theatre & Dance and Education majors) the opportunity to work with kids and teach their art, and it gave kindergarten and elementary students the chance to have fun, engage in a healthy activity, and learn important physical skills. Obviously, it was a win/win for both schools.
When Stan took a position at Walpole (NH) Elementary School, he brought the after-school program with him. The dance classes are based on NH Curriculum Frameworks for Dance and National Core Arts standards and encourage the kids to explore creative movement and the problem-solving challenges of dance making. "There's usually a theme within which the beginning specialists teach the dance content," Murdoch explained, "sometimes the theme interfaces with other subject areas as well."
Due in part to Murdoch and Stan's years of working together, Keene State became the only undergrad program in New Hampshire to establish a K–12 Dance Ed Certification Program, which was approved by the state's Department of Eduation in 2011.
When Stan retired, KSC grad Nathan Bisson '14, M'16 stepped in as Walpole's school counselor and enthusiastically embraced the dance program.
"This partnership allows us to provide a wonderful free program to our students and families, and at the same time the Keene State College student teachers are able to earn their teaching hours and hone their teaching practices," Bisson said. "It's also an opportunity to expose our young students to skills that they otherwise might not have experienced had this program not existed. Dance teaches skill building in the most organic fashion – one being to develop grit and resilience towards their efforts. They are organically building other skills as well, such as social competence, gratitude, self-control, and optimism.
"The KSC student teachers benefit by gaining critical experience as they learn how to manage a group of students. I see the student teachers authentically learning and growing over their semester with our students. I talk to them after class and they are always so happy to be doing this in Walpole. I know that they will take these positive experiences into the workforce in the years to come and use them to better their educational practices.
"I can see this partnership continuing for many years to come."
Related Stories