Student, Faculty, and Local Organization Recognized for Strengthening Community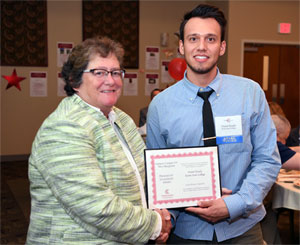 Keene State College has dedicated three awards to recognize work that is strengthening communities. The Campus Compact Presidents' Awards include the President's Leadership Award, President's Good Steward Award, and President's Community Partner Award.
Student Daniel Keady is the recipient of the 2017 President's Leadership Award. This award recognizes an individual student or student organization that has made outstanding contributions to community service, service learning, and/or civic engagement efforts on the campus. Daniel's award nomination cited his involvement with events like Relay for Life, Walk A Mile, and Adopt-A-Street as well as his leadership in creating TKE In a Box. One of his nominators shared that "Daniel has been committed to bettering the campus community as well as the community in the city of Keene through his multiple acts of service. Daniel's TKE in a Box event should be highlighted as an outstanding contribution due to the amount of planning, manor of commitment, and its profitable outcomes for a great cause."
Patrick Dolenc, professor of economics, is the recipient of the 2017 President's Good Steward Award. This award is given to a member of the KSC faculty, administration, or staff who has contributed his or her professional expertise in service to the wider community and who has significantly advanced public service on the campus. Patrick's nomination acknowledged, "Dr. Dolenc has long served as one of the most recognizable forces behind civic engagement at KSC," and noted his involvement with the American Democracy Project, Keene Housing Kids Collaborative, and the Healthy Monadnock 2020 Living Wage Initiative.
The New Hampshire Dance Institute is the recipient of the 2017 President's Community Partner Award. This award is given to a non-profit organization that has enhanced the quality of life in the community in meaningful and measurable ways and engaged in the development of sustained, reciprocal partnerships with a college or university. Service to the community is a long-standing value at Keene State College and this organization's accomplishments are significant. NHDI's nomination noted that, "the New Hampshire Dance Institute has brought the arts and dance to tens of thousands of children in the Monadnock region. In a time when the Arts are in jeopardy, theirs is a mission that is marching on."
Related Stories