Zach Benton '10 – Well Prepared for a Lively Music Career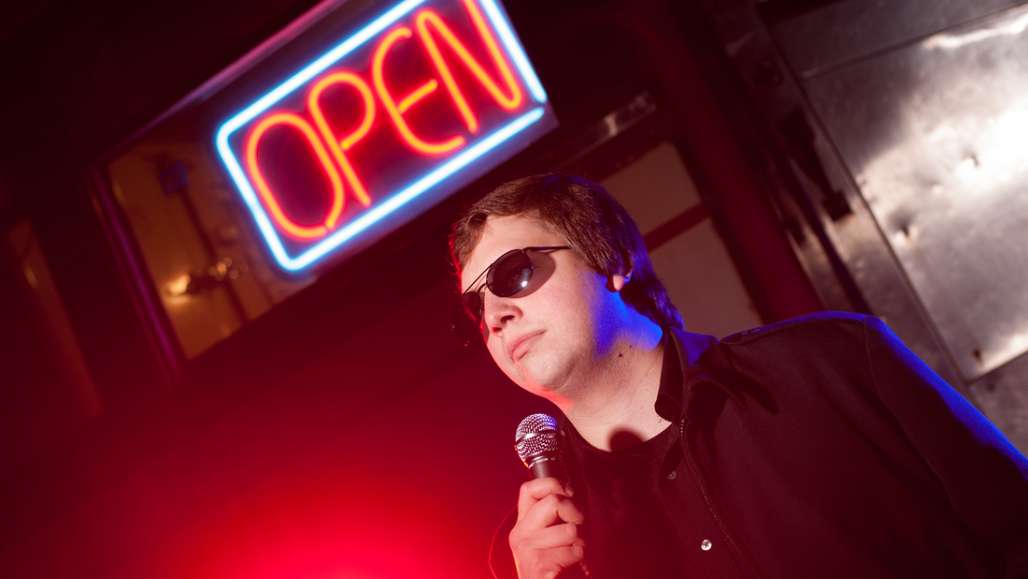 American Studies major Zach Benton, who bills himself as a "one-man-band, songwriter, producer, arranger, and singer," has been performing and recording professionally since he graduated from Keene State in 2010. And not without considerable success: His extended play (EP) recording Mister Roberts' Epiphany was followed by his long play (LP) entitled Fall In, which hit # 6 on iTunes' R&B/Soul charts for new releases in October of 2013. Zach's most recent single, "Truer Love," peaked at # 3 on iTunes' R&B/Soul charts for new releases. His third album is based in part on the Salem witch trials.
He has performed in New York City's East Village and Central Park, as well as numerous Keene and New England venues, and he hosts and performs on his own Cheshire TV show. He also tutors Special Ed children at the local Franklin Elementary School on Washington St. in Keene.
So what does Keene State and the America Studies program have to do with all that? Quite a lot, according to Zach, who graduated cum Laude and won the Robin Dizard American Studies Award by unanimous department vote.
"I do feel that KSC prepared me – due primarily to the balance of discipline and freedom it offered, I was able to shape my own identity. The 'gen eds' that students often groan about? They were necessary, and come back to inform your experience after you've graduated. The intensive writing of the American Studies major also prepared me to 'write my way' into anything. The interdisciplinary nature of the major made sure that I was versatile.
My new album, The Salem Album, has partial lyrics from the actual Salem witch trial transcripts. The ability to research, find reliable sources, and quote primary historical sources stemmed from my American Studies major. To give the album a sense of authenticity, and out of respect for the people involved in that New England tragedy, it was necessary to include actual words from residents of Salem Village. When not using lyrics from the transcripts, I found a voice in a New England Gothic vein, influenced by Nathaniel Hawthorne. American Studies gave me the opportunity to study Hawthorne very deeply.
"While I wasn't a Music major (I was a Music minor for one semester), I was able to engage in many music classes. I sang in the audition-only KSC Chamber Singers for all four years at KSC, as well as taking such classes as Film Scoring, Ethnomusicology, Folk Music, and Latin American Music.
"Not only that, but Keene State had tons of extracurricular areas for a young singer/songwriter to perform. There was Saturday Night Jive, Chalk Talk, the Nite Owl Cafe's open mic nights, and numerous other events. This gave me opportunities to develop my showmanship for music performance. You don't become a semi-pro musician performing in a New York City club without that kind of experience, and KSC gave me plenty."
Related Stories