Brittany LaFleur Earns National Fellowship for Her Efforts to Improve Education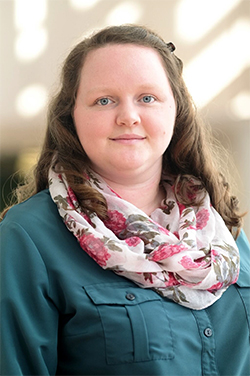 Keene State College is pleased to announce that junior Brittany LaFleur is one of this year's Campus Compact Newman Civic Fellows. Brittany is a student leader who is committed to equal and adequate education for all children. She joins a distinguished group of 273 community-committed students from across the Campus Compact network. Campus Compact is a national coalition of more than 1,000 college and university presidents, representing around six million students, who are dedicated to preparing students to be engaged citizens who work to improve communities.
"Brittany's dedication to education and preparing children for success in life is admirable. She is an example of what it means to be an engaged citizen who is taking action to better the lives of individuals and their communities," said Keene State College President Anne Huot. "It was an honor to nominate her. Congratulations to Brittany on this well deserved fellowship."
Brittany works closely with campus programs and regional non-profits to prepare children aged five years old and under for academic and life success. Her efforts include direct tutoring at Head Start, and advocating for investment in early childhood education. Her advocacy through public speaking and outreach engagements highlight evidence of the need for investment, and provide a platform for her to share her personal experience. She is a mentor for peers at Keene State through Residential Life, teaching assistantships, and leadership in Kappa Delta Pi. She will be working closely with her mentor, assistant professor of education, Dr. Erin Greeter, throughout the fellowship, which begins in August 2017 and ends in May 2018.
"I am thrilled to have this opportunity. I look forward to connecting with other fellows across the country, and being part of a national conversation," Brittany said. "This is a chance for me to grow professionally. I will learn about projects and service work being done by my peers, and I will seek out other fellows who are involved in education projects that may help to generate more ideas and approaches to my efforts."
Students from New Hampshire institutions Dartmouth College, Plymouth State University, Saint Anselm College, Southern New Hampshire University, NHTI, and Manchester Community College also have fellows in this year's program. Brittany's bio is available online, and here's a video of Brittany discussing her work:
Related Stories