Dance, Research at 2017 Academic Excellence Conference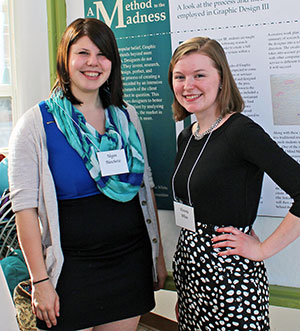 KSC will host its 17th Annual Academic Excellence Conference, featuring 85 student presentations, panels, posters, and performances from more than 120 students. Works cover a range of topics, from the study of fatty acids that aid in the fight against cancer, to an exploration of ethical issues affecting us today, to dance performances bringing ideas and concepts to life.
This event brings together student scholars and their families, faculty and staff mentors, members of the KSC community, area legislators, system trustees, and residents in the Keene community in celebration of academic research and scholarship.
The event is free and open to the public.
When: Saturday, April 8, 2017 from 9 a.m. to 5:15 p.m. – opening in the Mabel Brown Room in the Student Center
Where: Lloyd P. Young Student Center and David F. Putnam Science Center Keene State College
View a full schedule and list of presenters.
View videos of some student presenters at this year's Academic Excellence Conference, where they discuss their experiences at Keene State:
Kayla Carta, chemistry major, will present research on the use of Methylenedioxymethamphetamine (MDMA) in the treatment of persons with Post Traumatic Stress Disorder (PTSD).
Makayla Ferrick, dance and management major, will perform contemporary choreography that explores how norms of society dictate how "to be" human.
Ben Weidman, safety and occupational health applied sciences major, is part of a team of panelists who will share their research and life changing experiences after witnessing standards of living in Nepal. The team will present possible improvements, and potential barriers to Nepali systems.
The Academic Excellence Conference is sponsored by the Office of the Provost, Office of the Associate Provost, Keene State College Student Assembly, Marketing and Communications, and Vice President for Student Affairs and Enrollment Management Office.
Related Stories