Dr. Waller Examines the US's Risk for Genocide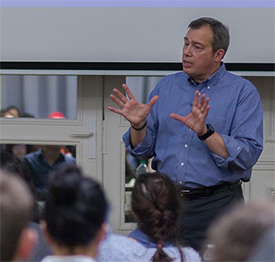 Is the United States on a path that could lead to a future where genocide is considered a reasonable political, social, national, and economic strategy? What are the warning signs? Is there anything citizens can do to change such a course? The Center for the Development of International Law (CDIL) and the Institute for Global Policy (IGP) are concerned enough about these questions to have published a white paper by Jim Waller, Keene State's Cohen Professor of Holocaust and Genocide Studies, titled It Can Happen Here: Assessing the Risk of Genocide in the United States (pdf).
"While I recognize that the immediate chances of genocide occurring in the US are remote," Dr. Waller explained, "the paper argues that recent political transitions in governance, combined with an escalation in long-term social fragmentation trends, have increased our potential risk for genocide in the US."
Dr. Waller is an internationally recognized authority on genocide and its causes. He is author of Becoming Evil: How Ordinary People Commit Genocide and Mass Killing and Confronting Evil: Engaging Our Responsibility to Prevent Genocide and serves as Director of Academic Programs with the Auschwitz Institute for Peace and Reconciliation (AIPR). His work includes education and training in genocide prevention for the US Army Command and General Staff College at Fort Leavenworth, Kansas, and briefings on genocide prevention and perpetrator behavior for the U.S. Department of State's Bureau of Intelligence and Research, the CIA Directorate of Intelligence, and the International Human Rights Unit of the FBI.
Related Stories