Keene State Students Showcase Internship Experiences for Campus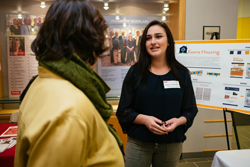 Each year, hundreds of Keene State College students make their way into the working world to gain experience before they graduate, while picking up as much knowledge as possible along the way. This year, Academic and Career Advising at Keene State provided a platform for sharing these experiences by hosting an Internship Showcase.
The campus event, consisting of a panel of speakers comprised of faculty, students, and regional businesses as well as presentations by interns, provided an opportunity for student interns like Keelan Brown to speak candidly about their internship experiences.
"I interned at Sundance Film Festival in Park City, Utah," said Brown. "I flew out to Utah and stayed in Park City for about a week and I worked with United Talent Agency out of Beverly Hills, helping schedule and set up car rides, and completing other responsibilities. It was great to be immersed in that film culture – I met entertainment lawyers, agents, and actors, and it helped me get the internship I have now here in Keene at the Monadnock International Film Festival."
A more local opportunity was presented to Jessica Markarian '17 from Danville, NH, who interned as a communications assistant at Keene Housing. "Keene Housing is a local housing authority that specializes in finding affordable housing for the elderly and the disabled," said Markarian. "We host many events for them, and I've been helping with the marketing and communications side, making flyers and drafting a communication plan that can involve everyone in the office."
Markarian, who has been interning at Keene Housing for two semesters, said that her experiences there supplemented the lessons learned in the classroom. "In some ways, I was fully prepared for this internship by my classes here, but I feel like I learned a lot from interning that I wasn't even aware I needed to know," she said. "With a communication degree, you don't realize how much you learn from just interacting with people in different settings, and I've really valued learning in a setting like this."
The Internship Showcase event helped to spread the word about opportunities that exist, and the ups and downs from students' experiences. "There were two main goals for the event, one being to give the students who've completed an internship the opportunity to share it with the community and talk about their experience," said Louise Ewing, career advisor. "The second goal is to educate students about internships, when to do them and really get first-year students and sophomores to start thinking about when they should be looking for an internship, and how they can explore their interests and develop skills while interning."
Related Stories