Keene State Students Prepare for Education Careers by Teaching in Area Schools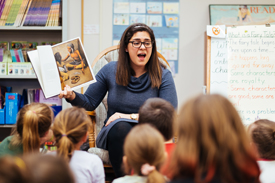 As early as January, Keene State student teachers were out in schools across the state, refining their skills through hands-on learning. In both fall and spring, education students participated in a range of activities, from early field experiences to final full-time student teaching.
Student teachers spend the entire semester building their knowledge and skills through the experiences gained working in schools. They observe, co-teach, and take on full-time responsibilities under the guidance of a mentor teacher.
Keene State's faculty, in cooperation with the host institution's faculty, work together to provide the student teachers with the developmental skills needed to be successful in the classroom.
Sydney Feinstein '17 is teaching at the Fuller Elementary School in Keene in a third grade classroom.
"After taking the classes Methods 1 and 2, along with my time as a student teacher, I feel I am fully prepared to graduate with my elementary education degree. My experience throughout has been positive, encouraging, and professional," said Feinstein. "I gained confidence, learned professionalism in the schools, and have grown my love for teaching."
Rachel Harmon '17 is also teaching at Fuller Elementary. She shared insight into why hands-on learning is so important to the process of becoming an effective educator.
"The common theme throughout my time in the schools, and what I will take away from this experience, is the ability to learn from my mistakes. It is inevitable that as a student you will not do everything perfectly; we're learning," said Harmon. "What the student teaching experience allows you to do is to learn in a safe environment."
While making mistakes is an integral part of any learning experience, Keene State's student teachers also discover the best ways to approach education through collaboration with current teachers as well as their students.
Jessica Matthews '17, who is teaching in Hinsdale, NH, says that through the support she's received in Hinsdale and from Keene State, she has grown as an educator.
"I am taking away from my teaching experience patience, compassion, and firmness, and learning to put all of those things together," said Matthews. "Each person I've been with throughout this journey has helped me to shape myself into a teacher, and they have shown me some great things that I can bring into my own classroom."
According to Assistant Dean and Professor of Education Stephen Bigaj, while there are a number of intangible benefits from experience in the classroom, each student teacher will take away quantitative skills as well.
"Students have to demonstrate a range of competencies during their experiences in the areas of instruction, planning, classroom management, and professional responsibilities. Each student teacher must learn how to participate effectively in a school culture and environment," said Bigaj.
Related Stories