Doppelgänger Dance Collective Premiers New Contemporary Dances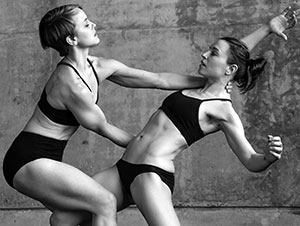 Doppelgänger Dance Collective will present five original contemporary dances performed by dancers of similarly versatile techniques and powerful physicality on Thursday, March 30, at 7:30 at Keene State College's Redfern Arts Center. Doppelgänger Dance Collective (DDC), a duet project founded by dancers Shura Baryshnikov and Danielle Davidson, will present world premieres of two new dances and perform three other works from their repertory of original contemporary dance performed with live music. Tickets range from $20 to $12 and $5 for KSC students. For tickets, call the Redfern Box Office at 603-358-2168 or order online at keene.edu/arts/redfern.
Over the past year, DDC commissioned choreographers to create original dances and two of these works The Queen's Dream and Judgy will be world premieres on March 30 at the Redfern Arts Center. DDC's first choreographer-in-residence, Heidi Henderson, who is on the faculty at Connecticut College and a choreographer for elephant JANE dance, choreographed three of the dances including the premieres, The Queen's Dream and Judgy.
The Queen's Dream follows The Queen's Dream of white things such as feathers, ping pong balls, marshmallows and Elizabethan costumes with collars framing regal gestures with huge skirts flying while dancing. Musical director for the program and cellist, Adrienne Taylor performs String Quartet no. 4 by Mozart with a twist while the dance is performed by Baryshnikov, Davidson and Henderson.
Judgy, a solo danced by its choreographer Henderson, embarks on a process of making movement to a simple structural idea: repeating the same movement material as exactly as she can to two radically different sound scores, played by Taylor on cello and Nate Tucker, a percussionist and composer with Juventas New Music Ensemble and Flamenco Boston.
Henderson's third work Pretend this title is invisible, a piece from last year's DDC season, is performed by Baryshnikov and Davidson with Taylor on cello.
Another duet on the program is Underwear, Nowhere choreographed by Alissa Cardone, who serves on the artistic advisory board of Green Street Studios and is an Associate Professor of Dance at Boston Conservatory at Berklee. This work, inspired by the collages of Dadaist photo-montage artist Hannah Höch, uses image-based movement as a jumping off point to explore vocabularies and approaches found in both release technique and physical theatre. Composer Nate Tucker performs live percussion instruments while Baryshnikov and Davidson dance.
Related Stories