Dan Johnson '95 Achieves Success in Education Administration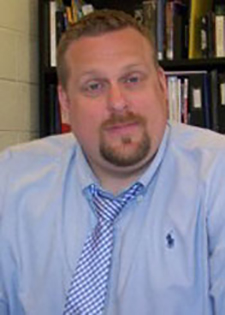 A sturdy 6-foot 5-inch, 240-pound power forward during his basketball playing days at Keene State College, Dan Johnson used his strength and size to his advantage, rising above opponents to provide the Owls with a much-needed inside scoring and rebounding threat. "I loved the competition," said Johnson, who averaged 9.4 points per game and 6.2 rebounds per game during his four-year career playing basketball in the highly competitive and now disbanded NCAA Division II New England Collegiate Conference. "I wish we won more games, but I wouldn't take back a single moment."
These days Johnson is still climbing – not on the court, but in the classroom as a teacher and administrator in his home state of New Jersey. An English major who earned is degree from Keene State in 1995, Johnson currently serves as the assistant superintendent in Sparta, New Jersey, a highly-coveted school district, noted for sending its students to Ivy League and highly-selective four-year institutions.
Johnson says he appreciated his time at Keene State, for the basketball experience and the academic opportunity that opened up doors to the classroom and eventually into administration. "I had great teachers at Keene State and still keep in touch with many of them," he said. "They were interested in my progress."
One of the last basketball scholarship players at Keene State, Johnson, who hails from Jefferson Township, New Jersey, moved around the state, gaining the valuable experience and background needed to rise in the field. Teaching jobs in Patterson and Kinnelon paved the way to a position of English supervisor at Wallkill Valley Regional High School. Five years later, he went to work as an assistant principal in Patterson before serving first as a middle school principal in Roxbury, and three years down the road as an elementary school principal in Chester, where he received the distinction of being named the state's Principal of the Year in 2012, an honor that included a trip to the White House. "It was really cool to be recognized for all my efforts," he said.
Enjoying the opportunity to work with students from diverse areas and backgrounds, Johnson also takes pride in the many innovations he's brought into his schools, including improved curriculum and full-time kindergarten.
Johnson has also worked hard to make himself a better administrator. Taking night classes, he earned two master's degrees, and received his doctorate in 2013 from Seton Hall University in Education Leadership and Policy.
Teaming up with his former AAU Basketball Coach who now serves as the superintendent in Sparta, Johnson hasn't forgotten his alma mater, sending several of his students up to Keene State over the years.
Related Stories