Global Issues Spur Debate and Learning in Sociology Classroom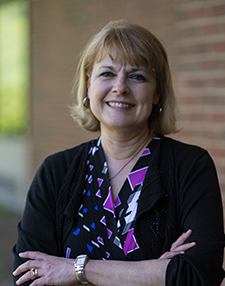 For decades, sociology professors like Keene State's Dr. Therese Seibert have been discussing and analyzing the country's immigration policy with their students. Sociology scholars, including Dr. Seibert, are quick to point out that the United States has a long history of limiting the number of immigrants from different areas and regions allowed in the country based on national interests and labor needs. 
Long before President Donald Trump signed an executive order that temporarily closed the nation's borders to refugees from seven predominantly Muslim countries, Dr. Seibert and her students were debating the highly volatile issue last fall in a course entitled "Ethnic Relations."
After the 10,000th Syrian refugee was admitted into the United States by September of 2016 under President Obama's Executive Order, Dr. Seibert used it as a teaching moment. Using a debate format, she had her students arguing different sides of President Obama's use of executive privilege. "We teach our students critical thinking and diverse perspectives," she said. "I wanted them to see that there are different perspectives to the issue. You can't be closed-minded. Maybe there is something you can learn?"
Citing freedom of speech and open discussion, Dr. Seibert watched intently as her students debated both sides of the issue. "What made me proud as a professor was they were researching not only their sides, but the opposing point of view and evaluating their own personal ones. That's what we push for in our classes," she said.  
Dr. Seibert is known to use note-worthy news events and thought-provoking topics to elicit a lively discussion among her students. With a series of presidential debates grabbing headlines, she had her students come to class on Halloween night dressed as notable politicians and historic figures, prepared to debate. A student who supported Vermont Senator Bernie Sanders came dressed as Donald Trump while another came as Massachusetts Senator Elizabeth Warren, arguing and providing their perspectives on a variety of issues. Dr. Seibert joined in the fun, participating as news reporter Martha Raddatz. "The students did a great job of articulating different viewpoints and using the actual words of the people they were portraying," said Dr. Seibert.
Later in the semester, Dr. Seibert's students took up the topic of immigration and the Syrian refugee crisis with poster presentations. Deciding after much debate to open the presentation to the public, the student-driven event held at the Night Owl Cafe proved to be a huge success. "I told the students that their poster presentations were an important part of activism because they used reputable and credible sources for information. They were teaching people the difference between myth and facts to help them become educated citizens."
Related Stories