Troy Culverwell Becomes Historical Society's Crowdsourcing Project Manager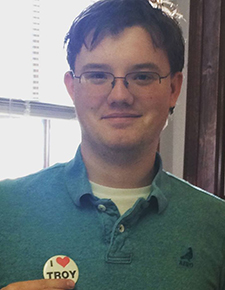 Sophomore Troy Culverwell came to Keene State from his hometown of Morrisville, North Carolina, because he wanted to major in European history, which the other schools he looked at offered only as a minor. He's also majoring in secondary education, but his real goal is to go into museum sciences and work in public education. In his first year on campus, he landed an internship with the Historical Society of Cheshire County, which is giving him the real-world skills he'll need to fulfill his goals.
"Troy is absolutely wonderful," said Jennifer Carroll, the HSCC's Director of Education "He first visited as part of a class research trip as a freshman and asked to volunteer that day. He has helped us to research and install two exhibits (the Jewish heritage exhibit and the lawn ornament exhibit) and has helped us to plan many public programs. We feel lucky to have him here and even luckier that he came to us in his first year at KSC."
Culverwell has also stepped into the role of "Crowdsourcing Project Manager" for the HSCC's Citizen Archivist Initiative. He'll spend the semester posting scans of historic documents to the Initiative's Facebook page so that volunteer archivists can transcribe them.
"The Citizen Archivist Initiative gives me the reward of seeing projects finished and lets me interact with others who want to help preserve history just as much as I do," Culverwell explained. "The society is also helping me develop my writing and research skills. I'm learning such diverse things as how to read and understand the census and use Swiss clips to hang up a picture. I'm getting experience that I will need later in the field. My internship also allows me to talk to the community and learn from many individuals who have had experience in the field I want to go into. I've been able to have discussions with directors of other societies and professors, talking about the topics of the exhibits and other information."
"As a citizen archivist myself who's really enjoying transcribing some of those historical documents, I can attest to the efficiency, professionalism, and friendliness that Troy brings to his work," noted Mark Reynolds, writer/editor for Keene State's Marketing and Communications Department.
Related Stories