Don't Miss the Latest Profiles in The First-Person Project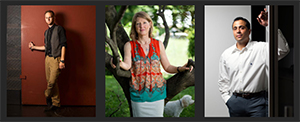 The First-Person Project visits alumni in the greater Washington, DC, region in the Winter issue of Keene State Today. Read the oral histories of Joshua Midgett '07, the general manager of a theatre festival; Robin Carnes '83, the founder of a nonprofit that trains yoga teachers to work with former and current servicemembers who have trauma-related conditions; and Daniel Colina '11, an account manager with a nonprofit that develops curriculum.
Alumni who don't receive a print copy of the magazine can find a downloadable pdf of the issue here.
Related Stories