Film Studies, T&D, and the Redfern Present Contemporary Dance on Film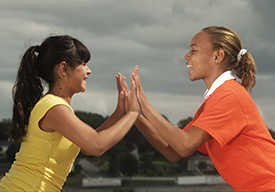 The Redfern Arts Center and the departments of Film Studies and Theater and Dance will present an evening of short works, Contemporary Dance on Film, on March 3 at 7 p.m. in the Putnam Theater. The screening will showcase pieces by international and regional artists, including the Pioneer Valley multi-media collective Tristatic and Boston-based filmmaker Alla Kovgan. The program features various approaches ranging from site-specific dance to gestural exploration, and highlights the collaborative possibilities when dance and film intersect.   Sharon Fantl (Redfern Arts Center), Cynthia McLaughlin (Theater and Dance), and Jo Dery (Film Studies), who will be present at the screening, organized the event.
The program is free and open to the public.
Related Stories