Puppet Showplace Theater Brings Tales of New England to the Redfern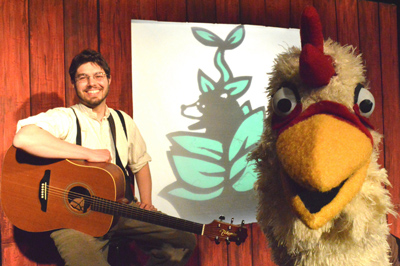 The Redfern Arts Center at Keene State College continues its annual Saturday morning family show with Puppet Showplace Theater presenting Tall Tales! Stories and Songs from New England on Saturday, February 25, at 11 a.m. in the Alumni Recital Hall. All tickets are only $5 to this musical puppet show that draws from 300 years of stories, songs and local history of New England. For tickets, call the Redfern Box Office at 603-358-2168 or order online at keene.edu/arts/redfern.
Puppeteer Brad Shur and musician Chris Monti take audiences on a whirlwind tour of New England's tallest tales. Along the way, you'll help the residents of Cheshire, Mass. make the world's largest wheel of cheese, sail the ocean with the legendary giant sailor Alfred Bulltop Stormalong, and meet a very fashionable bear by the name of Jenny Jenkins. There is sure to be something for everyone in this fun and interactive family show! So, if you are looking for something to do during the February school break, come to the Redfern Arts Center for Tall Tales! and sing along with a sea shanty or dive deep into a fox's den. Tall Tales is suitable for the entire family.
Puppet Showplace Theater, based in the Boston area, is dedicated to presenting outstanding professional puppetry to diverse audiences through performances, workshops, and community outreach activities. From the day it opened in 1974, Puppet Showplace became a home for touring puppet companies from across New England and beyond such as the Boston Area Guild of Puppetry. Puppet Showplace has received numerous awards and recognitions over the years, from an Eliot Norton Award Citation for "Keeping the ancient art of puppetry alive for audiences of all ages" to the Boston Parents Paper's listing as "Favorite Family Entertainer."
Brad Shur is a versatile puppeteer who has created and performed characters made of everything from pixels to paper mache. All of the puppets Shur uses in his performances come from his workshop, where he builds them by hand from wood, paper, plastic, foam and fabric. Since 2009, he has been the Resident Artist at Puppet Showplace Theater, where he creates and performs original puppetry productions for youth and family audiences and teaches puppetry classes to students of all ages.
Chris Monti is a writer, singer, and musician based in Providence, R.I. He has released three records: Home, Locust Grove, and Swampland Flowers on CMO Records. Monti has opened for and toured with country-blues great Paul Geremia, and has played music with the Providence Wholebellies, Sierra Leone's Refugee All Stars, and composer Steve Jobe. Monti regularly performs for children in schools, hospitals, and community settings. In addition to guitar, Monti plays harmonica, banjo, mandolin, dobro, piano, lap steel, and kazoo.
Redfern Arts Center presents several free Creative Connections outreach activities in conjunction with Puppet Showplace Theater's Tall Tales! performance.
Puppeteer Brad Shur provides a Shadow Puppetry Demonstration on Friday, February 24, at 3:30 p.m. at Keene State's Child Development Center.
A Shadow Puppet Workshop with Brad Shur takes place on Saturday, February 25, from 1 to 2 p.m. at the Thorne-Sagendorph Art Gallery on the Keene State campus. Shadow puppetry harnesses the power of darkness and light to tell stories and bring characters to life. Participants design and construct their own shadow puppet characters and practice animating them on a shadow screen. The workshop is 1 hour in length and is open to 30 participants ages 5 to 12 years. Reservations are required, to RSVP contact Sharon Fantl at sfantl@keene.edu or 603-358-2167.
A post-show reception and Meet and Greet with artists Brad Shur and Chris Monti follows the performance in the lobby. There will be snacks and an art making activity for the whole family.
For more information about these activities, contact the Redfern's Assistant Director Sharon Fantl at 603-358-2167.
Related Stories