First-Year Student Finds Right College Close to Home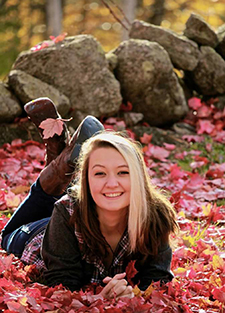 Deviroux D'Errico can't wait to begin her second semester at Keene State College. "I loved all my classes and the professors were amazing," said the film studies major from Hillsborough, New Hampshire. "I've already made extreme improvement in my art."
Deviroux wasn't the only one pleased with her decision to attend Keene State. "From my perspective, the cost worked for us, and I also felt safe about Keene and every aspect of the campus," said her mother, Kelly D'Errico.
D'Errico initially intended to go to a small art school in the Boston area, but the prohibitive cost and a change in her intended major had her looking closer to home. "I really liked the location and when I went online, it said Keene State was the best school in the state for film studies," she said.
D'Errico also got good recommendations from a pair of Keene State alumni. Her guidance counselor at Hillsboro-Deering High School, Michael Boucher, who earned his bachelor's degree in 2006 and MEd in school counseling from KSC two years later, shared his experiences as a student. On a tour of the college, Deviroux and her mother ran into their cousin Devon Cutter '14, a recent grad who had returned to campus to help moderate a video conference with other successful alumni from the film studies program. "We immediately hooked up on Facebook," said Kelly D'Errico. "He told Deviroux about the program and also gave her some advice about buying equipment."
It didn't hurt that Kelly D'Errico worked as an administrative assistant for the principal at Hillsboro-Deering and was well acquainted with numerous available scholarships. Despite rolling her eyes about filling out the forms, Deviroux saw that her work wasn't in vain, receiving 80% of the scholarships she applied for from her high school– good enough to pay for her first semester at Keene State.
D'Errico did her job in the classroom, doing well academically and making the dean's list. "I found the transition a lot easier that I thought," she said. "In college, I had time to focus on fewer classes which allowed me to take subjects that I'm really enthusiastic about."
Interested in film since her childhood, D'Errico is considering a double feature at Keene State. "I'm going to talk with my advisor about doing a double major or creating a new major," she said. "I'm thinking of combining film and graphic design to create an animation."
"As it turned out, Keene State was the right school for me," D'Errico added. "I know I will be very successful here."
Related Stories