Equinox Art Director Designing a Career as a Graphic Artist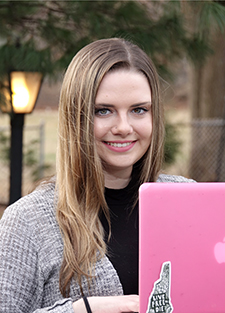 When Keene State senior Samantha Moore returned home to Fair Lawn, New Jersey, for the semester break, she didn't come empty-handed. In addition to a load of laundry, books, and her pink laptop, the graphic design major had a stack of The Equinox, the College's student newspaper.
While her parents are interested in the latest news from the campus, they are more excited about seeing the graphic designs done by their daughter, the newspaper's art director. "It's thrilling," said her mother Kathy Moore. "We feel like Samantha has blossomed at Keene State. We're so glad she got involved in the paper. Her work has really taken off."
"I get really excited when I see my designs in the paper," added Moore. "It's like when an artist hears their song on the radio."
Moore has excelled in her new position, bringing her own unique artistic and creative flair to the pages of the paper. "It's been a great experience," she said. "I think it's made me a stronger designer and more versatile. It's doing a little bit of everything which I really love."
With a career path in mind, Moore and her mother embarked on 22 college tours. Keene State was their final stop. "I immediately knew it was where I wanted to go," said Moore.
Moore honed her skills in the classroom, displaying a passion for the field with more expressive and more complex designs. "I've noticed differences in myself," she said. "Work that used to take me hours to do I can basically can do with my eyes closed now," she said. "The professors are very supportive. They care about the students and it shows."
"When Samantha walked into my class she didn't have a lot of experience," said Randall Hoyt, an associate professor in the College's Graphic Design program. "But she worked hard, and by the end of the semester she was one of the most improved students in the class. When I saw her later work I was impressed."
Positive feedback has led to positive results. Moore, whose work has been displayed at the College's Thorne-Sagendorph and Carroll House galleries, has fit right in at The Equinox, bantering with writers and editors about possible illustrations while having the flexibility to accommodate any last-minute requests. "I've gotten used to it. I get suspicious if I don't get any messages," she said with a laugh.
That flexibility along with her versatility and attention to details has given Moore the skills and confidence to enter the job market. "Keene State has provided me with real-world experience," said Moore, who hopes to work at a design firm when she graduates in May. "Every one really knows what they are talking about and it feels very professional."
Moore says she is looking forward to her final semester at Keene State and putting together a portfolio she can present to potential employees. "I just don't want to make pretty pieces of art just to keep in a folder. I want it to mean something bigger," she said.
Related Stories