Keene State Alumni Craft Showcase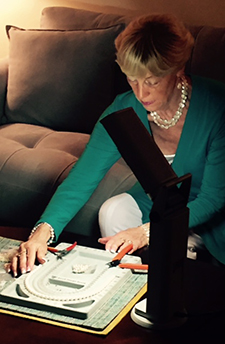 Keene State's alumni building lobby has been transformed into a craft showcase, displaying original work donated by 21 talented alumni. The exhibition, which ranges from fine crafts and photography to jewelry and woodwork, was the brainchild of Norma Walker '51, who has taken stewardship of the lobby display over the years.
"It's a great opportunity for people to know another side of our alumni," said Walker.
Alumna Carol Holbrook Brown '66 was more than happy to contribute to the collection. "I feel honored to have my work displayed at the College," said Brown, a retired teacher who, along with husband Tim Brown '66, splits her time between Jupiter, Florida, and Saratoga Springs, New York. "Keene State is very dear to my heart."
Carol sent several of her handmade jewelry items to the exhibit, including an eye-catching sterling silver slider and a necklace made with a large mother-of-pearl shell. Brown, who started making jewelry when she was 60, donates 90% of her items to charities.
Lifelong hobbies started in school
Several of the alumni began their crafts as students at Keene State. Ralph Dwire '51, who graduated from Keene Teachers College with a degree in trades and industries, donated two intricate wood bowls to the display, including one where he inlayed the mountains and snow.
Originally from Merrimack, New Hampshire, Dwire served as an industrial arts teacher at several schools in the state while also working at his craft, building homes and furniture as well as his beautiful bowls. A longtime woodworking teacher at Keene State, Charlie Sheaff '72 also donated several pieces, including a wooden glass inside a hollow wooden wine bottle.
A retired teacher from Hawthorne, New York, Eileen Oechsli Bohigian '75 started sewing quilts in 1973 to keep herself busy when students were given an extended semester break due to the energy crisis. After some trials and tribulations, not to mention a few classes, Bohigian has become quite adept. Currently working on her "retirement quilt" (a millefiori quilt with millions of flowers), Bohigian contributed several seasonal quilts to the display, including one adorned with patterns of mittens and snowflakes.
Chuck Maranhas '74 also began his hobby at Keene State, taking photos of his buddies skiing on the area slopes. Although his job as a FEMA assessment officer keeps him very busy, the Portsmouth, New Hampshire, native still finds time to pick up the camera. An early riser, Maranhas specializes in landscape pictures, including seacoast and mountain photos he sent for the exhibit. Another photographer, Mary Letourneau '72, captured some scenic shots of the Keene area for the exhibit.
Something for everyone
Patricia Parent O'Donnell '51, Winifred Woodbury Langtry '52, Doris Courteau Roulx '59, and Beverly Kovacs Spaven '65 sent items displaying their knitting skills. Keeping in the school spirit, Roulx made red owl mittens; O'Donnell gave a colorful owl blanket to the collection, while Spaven donated a red and white scarf. Anne Morissette Williams'71 and Mary Parker '76 showcased their weaving expertise (with Parker displaying her Swedish weaving talents with a beautiful knitted sweater), while Carol Gatcomb Riel '59 sent several outfits she designed for her American Girl doll clothes collection.
Printing by Tim Dunn '64 is also on display, while Barbara Sullivan Books '51 and Elaine Schmidt Chesley '51 highlight the art in making cards. If you like decorative baskets or boxes, then Kitty McClure Maher '73 and Martha Holbrook LaFleur '67 have something for you.
Tole art is also represented by Barbara Noseck Gendron '63 and Phyllis Buxton Bodwell '43. Gendron picked up the craft during her winter social time in Florida.
Some alumni displayed their artistic side with words. Barbara Jeffery Stimson '41, the oldest contributor to the display, sent one of several poems she composed to escape the trying times of her husband's battle with Alzheimer's.
The alumni would like to thank Walker for all her work organizing and displaying their crafts.
Related Stories