Know Someone Whose Accomplishments Deserve Recognition?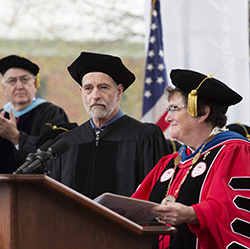 Do you know someone you deeply respect? Would you like to get them the recognition they deserve? Now's your chance. Keene State's Commencement Awards Committee has simplified the process for nominating someone for the Granite State Award and Honorary Degree that are presented each year at Commencement.
All members of the Keene State community – students, faculty, staff, and alumni – are invited to nominate someone for their outstanding accomplishments that reflect the vision and values of Keene State College. All you need to do is submit an email containing a paragraph or bullet points outlining the nominee's accomplishments and suitability for the award. Candidates for either award are not required to be associated with the College. If necessary, the Committee may contact you later for more background information, but even at that, the process is simple and easy.
Honorary Degree Candidates

Who would you consider to be an outstanding individual of national and/or international importance whose contributions have enhanced society as a whole or who have otherwise brought significant enrichment or benefit to a particular group?
Granite State Award

What New Hampshire person, agency, corporation, or foundation has demonstrated outstanding achievement in their field and has contributed significantly to the welfare or success of our state?
Submission Guidelines
A brief paragraph or bullet points identifying your choice for the award and your nominee's qualifications for it.
Optional – a link to further information that will allow the Committee to more closely consider the nominee's accomplishments.
Deadline: Tuesday, December 20, 2016
Send your email to Kathleen Williams, Chief of Staff.
Related Stories