Keene State Student Elected State Representative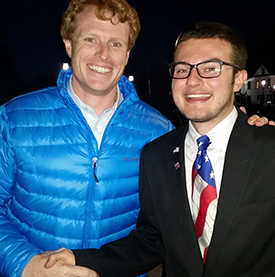 Keene State College offers an array of options for students looking to find something they are not only passionate about, but the conviction to find their voice and speak up and express their opinion. That opportunity could come at any time: during a class discussion, walking down Appian Way, or while attending one of the numerous thought-provoking events held on campus.
Joseph Stallcop found his "aha!" moment last spring while attending the College's annual Solar Fest. Stopping to listen to former student and state representative William Pearson '14 deliver a speech, the junior political science major and addiction minor from Gales Ferry, Connecticut, was inspired by Pearson's plea for students to get involved with projects or causes that excite them. When Pearson mentioned running for state representative, Stallcop couldn't contain his enthusiasm. "Right after the speech I went right up to him and said this is something I really want to get involved with," said Stallcop. "He gave me the rundown and put me in contact with a couple of state reps and I was off and running."
Stallcop didn't stop running. Seven months later he was elected to the Cheshire House District 4 covering Keene's Ward 1. Running unopposed, the Democrat received 1,567 votes among the 2,327 ballots cast in the Ward for a turnout of 44 percent. "I knew I'd get some votes because we're in a blue (Democrat) area and people vote down the party line, but I never expected to get more votes than both Clinton and Trump in the Ward," said Stallcop, who used social media and his connections with county Democrats to improve his name recognition.
While Stallcop's run for office was inspired by a speech, the foundation for his interest in the political movement can be traced back to the classroom. "I love having teachers who go beyond the course curriculum and address real-world issues," said Stallcop, who also enjoys the opportunity to see and meet a myriad of politicians and speakers who come to campus. "I've gained knowledge and a perspective that I never would've been able to obtain anywhere else."
While he will be one of the newest and youngest members of the state legislature, Stallcop vows to continue his activism and stand-up for issues he feels strongly about, including the opioid crisis, the student debt problem, and advocating for the LGBTQ community. He recently protested against the Dakota Access Pipeline in front of the Student Union and will spend the Thanksgiving break traveling to North Dakota to deliver supplies to the protesters.
Stallcop, who replaced Pearson (who resigned his seat after moving but was elected to a different seat), says he's adjusted his busy schedule and will travel to Concord as much as he can. "It will be some long days, but I'm ready for that," he said.
Related Stories