Film Major/German Minor Mikhail Lavrentyev Promotes Street Artists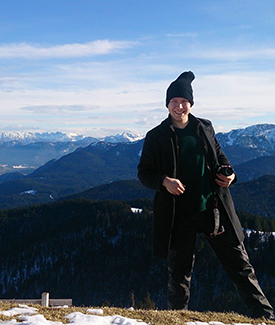 If you're a street artist, you spend a lot of time on the street, strutting your stuff for passersby, hoping someone will notice your talent and throw a paying gig your way. Thanks to a German company called Book a Street Artist, and the promotional filmmaking of Keene State senior Mikhail Lavrentyev, a Film major and German minor from Derry, NH, the road to success is more clearly paved.
Lavrentyev recently returned from a semester abroad in Berlin, where he landed an internship with Book a Street Artist, a start-up that finds talented street performers (graffiti artists, musicians, live acts, illustrators, etc.) and matches them to prospective clients, thereby supporting creative talent and helping them land gainful employment.
He acquired the internship through a summer abroad program in Berlin. "My job for Book a Street Artist consisted of three main responsibilities: Contacting the artists in preparation for shooting a live event, shooting the live event, and then editing a short one-minute video of the artist," Lavrentyev explained. "In other words, I was responsible for all steps of the video-making process."
"My studies here at Keene, whether it be from my Film or German professors, prepared me in that It helped me develop a positive work ethic and mindset," Lavrentyev said. "As a film major, the quality of your work determines the quality of your product, and it is crucial to make a good product. My experiences and time here have helped me develop my work ethic to a point where I am confident in my ability to make a quality product. However, I must say that the experience of working for Book A Street Artist and living in Berlin has been the most pivotal point of my life. Berlin has changed me in that I finally have a goal to strive for, and that is to work and live in Germany."
Related Stories