Women's Cross Country Wins 17th Straight Little East Championship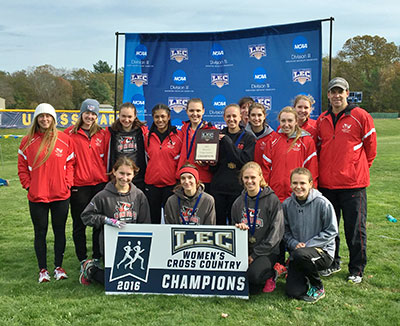 The Keene State College women's cross country team maintained their dominance of the trails this past weekend, as the Owls won their 17th straight Little East Conference championship at UMass Dartmouth.
Senior Lindsay Szuch became the latest Owl to win the individual medalist honor, winning the race in 18:02.74, a solid 32 seconds in front of the next runner.
Szuch is the ninth different KSC runner to take the individual title, joining Mary Proulx (2000, 2001), Jennifer Adams (2005, 2006, 2007), Breanne Lucey (2006), Rita Marcotte (2008), Allison Chamberlain (2009), Paige Mills (2010, 2011), Samantha Goldsmith (2013, 2014), and Kait Wheeler (2015).
Suzch earned All-Conference honors with the finish, and was joined as All-Conference by teammates Rachel Klaski, who finished sixth in 19:04.27, Katelyn Terry, who was seventh in 19:12.96, and Alyssa Lombardi, who finished eighth in 19:14.81.
The cross country win was not the only heroics of the weekend, as veteran head volleyball coach Bob Weiner recorded his 500th career victory with a 3-2 win over Maine Maritime Academy.
Keene State fell in the first set 25-17, but rallied to record consecutive 25-14 wins in the second and third sets. The Mariners forced a deciding fifth set with a 27-25 win in set four, but the Owls slammed the door shut with a 15-8 win for a historic win for their coach.
"We played really well today. They took what we've been doing in practice to heart. I'm so glad we played well," said Weiner.
Weiner is the all-time wins leader in KSC history, with 259 of his career wins coming at KSC.
Related Stories