Lobbying for Peace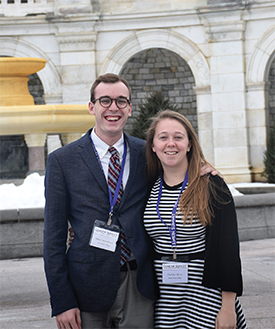 by Jacob Barrett '17
During their final semester at Keene State, Tanner Semmelrock '16 and Charlotte Meyers '16 took what they learned during their time as Holocaust and genocide studies majors and brought it to Capitol Hill to influence legislation.
The two went on their own to American University in Washington, DC, to attend the Lemkin Summit to End Genocide and Mass Atrocities, an annual conference for students and community leaders. While there, they spent time firing off questions to expert panelists and heard the US Ambassador to the United Nations speak on an array of crises, including those in Sudan and South Sudan. They also received training on how to combat genocide in the real world, as well as policy and advocacy training to prepare them for their final day in the District of Columbia.
On that day, Semmelrock and Meyers took to Capitol Hill with three other summit participants to lobby for three pending bills, the Atrocities Prevention Act of 2016, the Global Magnitsky Human Rights Accountability Act, and the Global Anti-Poaching Act. They spoke with staff members for several members of Congress from New England.
While they were initially nervous meeting with the legislative aides, they say, they were soon starting to feel like pros.
"I think for the first meeting or two we were definitely on edge," Semmelrock says.
Begin pull-quote…

It was inspiring to meet with other dedicated individuals who are just as passionate about genocide prevention as we are.

…end pull-quote
Semmelrock and Meyers both note that having the ability to speak face to face with the people who are representing them in Congress and tell them what they feel is important was a powerful tool in getting their message across.
"Obviously having that connection of being able to say 'we're your constituents' was really nice," Meyers says.
That connection may have had an influence on the success of their efforts. They were able to get the support of a number of the representatives they spoke with. The Atrocities Prevention Act of 2016, for instance, calls for the authorization of an Atrocities Prevention Board, which would provide a government approach to preventing atrocities and promoting peace.
"Now it's passing through the Senate pretty successfully, and we had a hand in that," Meyers says, referring to the group who lobbied with them.
"It was inspiring to meet with other dedicated individuals who are just as passionate about genocide prevention as we are," Semmelrock adds.
Passionate enough to lobby for real change.
"I think it just shows how much power one citizen has," says Semmelrock, "and that you can bring about change by working at it."
Related Stories