Advocating for Girls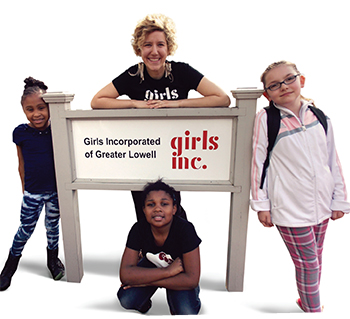 "My definition of activism," says Katelyn Adams '10, "is advocating for the equality of all people. I do this by educating and empowering individuals to find their own voice, and working collaboratively with them to bring about social change."
Adams works for Girls Inc. of Greater Lowell, a Lowell, Massachusetts, nonprofit agency with a mission of empowering all girls to be strong, smart, and bold through innovative, intentional, and educational programs for girls ages five to 18. "At Girls Inc.," she says, "we really try to foster independence in our members. We give them the tools they need to be successful, and we're constantly empowering them to advocate for themselves."
Advocacy isn't about being a voice for the voiceless, she says; that's a concept that takes away people's dignity and personal power. Instead, she says, advocacy is "inspiring individuals to find their own voice to become agents of change."
Adams began volunteering at Girls Inc. through a service learning program at Middlesex Community College, from which she earned an associate's degree in liberal arts and sciences. She transferred to Keene State, where she earned two majors: one in elementary education and one, an individualized major in the Women's and Gender Studies Department, in feminist anthropology. The latter was inspired by her part-time and volunteer work at Girls Inc., she notes. "The city of Lowell is incredibly diverse with so many rich cultures. We have a large refugee population, and I became very eager to learn about these cultures and how women are treated in those communities."
Begin pull-quote…

My definition of activism is advocating for the equality of all people. I do this by educating and empowering individuals to find their own voice, and working collaboratively with them to bring about social change.

…end pull-quote
Keene State's Women's and Gender Studies Department has an activist focus and, like the community college Adams attended, offers service learning opportunities. Through the two schools, Adams had many community volunteer placements, including in schools and at women's shelters. "It wasn't until volunteering at Girls Inc. that I figured out this is the cause and the work I want to be doing," she says.
In its afterschool, vacation week, and summer program offerings, Girls Inc. of Greater Lowell provides academic assistance, programming on prevention of adolescent pregnancy and substance abuse, self-defense, leadership, financial literacy, media literacy, and more. The classes are targeted to the girls' needs and goals. There is also a strong emphasis on encouraging girls to pursue math and science – fields in which women are not highly represented and that provide opportunities for lucrative careers.
"At Girls Inc. we don't talk about politics or religion," says Adams, who has been program coordinator at the agency since her Keene State graduation, "but I feel that everything that we're doing here is tackling political issues in a much softer way – and all of our programs target those issues." Girls Inc. leadership programs provide the girls with skills to be activists and advocates for themselves and their communities, she adds. For instance, through a program called Photo Voice, the girls took pictures of problems they see in the city. One subject of the photos was the dance floor at Lowell High School. "It was falling apart, and the dancers were getting hurt," Adams says. "The girls took pictures and wrote about their experience and brought it to City Hall. As a result they received a brand-new dance floor."
Adams, who received Middlesex Community College's 2013 Distinguished Alumni award and who returns to Keene State to talk with women's and gender studies classes, will be taking the next step in her own education soon. She was recently granted a Community Engagement Fellowship at Merrimack College in Andover, Massachusetts, and will be leaving Girls Inc. to enter the intensive year-long master's program. As part of the program, she'll be working in the service learning program at North Shore Community College. That opportunity may take her to new work in higher education, or to new challenges in youth work. "I'm excited about that new journey coming up," she says.
It's a journey that will provide her with more chances to empower people to bring about change.
Related Stories