The Equinox Recognized at National College Media Convention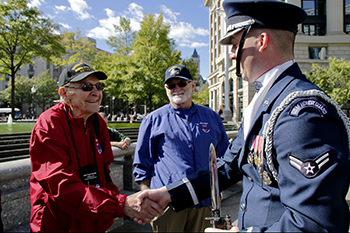 Students Earned Awards for Website and Photography
Keene State College student newspaper, The Equinox, was recognized among 1,300 members of the national college media in Washington, D.C. during the 2016 National College Media Convention in October. The Equinox took third place for Best of Show in the small school media website category. The Equinox photo editor Tim Smith finished seventh among 70 applicants in the D.C. Photo Shoot-out Competition.
The Equinox webmaster Masaki Carty said, "I can't take all the credit. I'm happy to know what we are doing is helping us to improve." He also noted that without the other members of The Equinox staff and editorial board, his job would not be possible.
Olivia Belanger, The Equinox administrative executive editor, agreed with Carty's comments, "Being a part of an award-winning organization like The Equinox is surreal. The hard work that the entire editorial board and staff put in was reflected in the feedback we received this weekend and only exemplifies our effort to make this publication the best of the best. I could not be prouder."
Assistant Vice President of Student Affairs Paul Striffolino echoed the comments of co-advisers Rodger Martin and Julio Delsesto when he messaged the staff, "Congratulations to all. Great Job!" Journalism Department Chairwoman Rose Kundanis followed her kudos with, "You make us all proud."
Related Stories