Meet the New Faculty: Erin Greeter, Education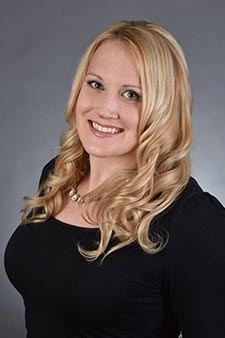 New faculty members bring their own unique background and experiences to Keene State College that will enrich the institution and bring a fresh perspective to the campus. One of two new faculty members in the education department this fall, Erin Greeter offers a look at the literacy mode of learning and drama in the classroom - not just seeing and talking about the word in print but also exploring how teachers can engage children in movement.
Greeter can speak from experience. "As a child I was a multi-modal learner. I was an active child through sports, so coming into the classroom and sitting in a chair for me was difficult," said Greeter, who grew up in Deerfield, Illinois, just outside of Chicago. "There's a lot more you can explore to show your deeper understanding through movement. That part of multi-modality growing up was important to me as a learner and when I became a teacher."
A three-sport athlete in high school, Greeter said her coaches served as mentors, providing leadership and guidance, but also the value of looking at each player as an individual, a trait she appreciated when she first interviewed for a position at Keene State. "They saw me as a whole person," said Greeter. "They were interested in who I was and how that fits into my teaching and scholar identity."
Greeter developed a distinct interest in the underused mode of literacy learning when she first stepped into the classroom as a teacher and enhanced her study of the subject while earning her PhD from the University of Texas at Austin, watching it play out in the classroom. Working in a dual-language classroom in Austin, Greeter had her students demonstrate words to help learn vocabulary. She would also stop while reading a book, inviting children to stand up and embody the character.
This semester Greeter is teaching a course called "Literacy in a Diverse Classroom," asking her students what literacy meant to them and what ways their experiences or history as learners helped form their beliefs. "Literacy is multi-modal now," said Greeter. "So helping students understand that helps them shift their perception on how they're going to teach."
Greeter encourages her students to get to know the children in their classrooms. She wants to help her students see that diversity exists everywhere and learn ways they can tap into children (what Greeter refers to as their funds of knowledge) and also to differentiate their instruction to support children, engaging them and shifting lenses so they are not stereotyped and ways of learning aren't generalized across populations.
"What I love about teaching is you're always learning and growing, and children are my teachers," said Greeter. "I tell my student teachers, 'Yes, you're becoming a teacher, but you're also a learner – you're learning beside your children and they will teach you things in ways that you wouldn't have thought.'"
Related Stories