Theatre and Dance Presents 'Eurydice'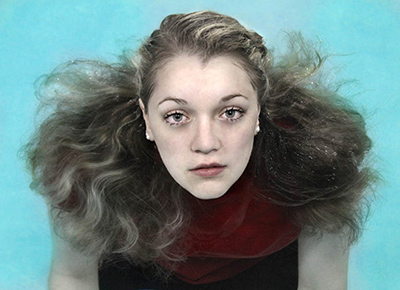 Eurydice, a spine-tingling fantastical journey that puts a contemporary twist on Eurydice's heart-wrenching quest for love, will be presented Wednesday to Saturday, November 16 to 19 by the Keene State College Department of Theatre and Dance. Performances begin at 7:30 p.m. each evening in the Main Theatre of the Redfern Arts Center on the KSC campus. Tickets are $10 for adults, $8 for seniors and youth, and $6 for KSC students. For tickets, call the Redfern Box Office, 603-358-2168 or order online at keene.edu/arts/redfern.
Directed by Keene State Theatre Professor Jeannie-Marie Brown, Eurydice was written by award-winning playwright Sarah Ruhl in 2003 and retells the myth of Orpheus from the perspective of his wife, Eurydice. With whimsy and wonder, Ruhl delivers a beautifully crafted contemporary twist on a timeless Greek myth that challenges our perceptions of life, death, love and marriage. The story focuses on Eurydice's journey which culminates in her choice not to follow her husband Orpheus back to the land of the living. Adjustments to the myth's story-line repurposes the timeless love story and enables an exploration of patriarchal ideals of love and marriage, explained Brown.
"Ruhl tells the myth from a very different perspective that of Eurydice," said Brown. "Eurydice's memory is washed away in the underworld, and her father, a central character, helps Eurydice reclaim her memory. The father-daughter journey empowers Eurydice to claim her identity, break from culturally imposed expectations, and ultimately reject the Lord of the Underworld's demands.
Eurydice is the one who breaks the rules, not her husband, and it is her choice to speak out that sends her back to the underworld, said Brown. In the myth Orpheus succumbs to his desires and looks back at Eurydice, while in Ruhl's version Eurydice calls out to Orpheus (causing him to look back). Eurydice uses language to avoid definition as "Orpheus' wife" and to remain in the land of the dead with her father.
This dichotomy between the world of the living and the underworld is incorporated into the set design by Theatre Professor Céline Perron. It is a contemporary set design which stays the same for both worlds but is set on different planes and uses an elevator and water as conduits between the two worlds. The set design also uses strings that have multiple meaning, said Brown. For example in ancient Rome and Greece the Fates spun a string to determine each person's life span. There's the string theory of physics which stipulates that filaments of strings interact with each other in space while the Navajo have a string game of memory.
Theatre faculty member Lara de Bruijn designed the costumes which also play into the memory aspect between worlds. Each costume is unique and adorned with stones or trinkets to designate each character's individual memories as well as what are universal ideas about self and place.
"What is alive in the upper world is adorned on their costumes but not in their memory," explained Brown. "The play is really about memory, language, and relationships and what that means to Eurydice and humans as a whole."
There are seven cast members including three who act as a Greek chorus. KSC student Mariah Palmer of Nashua, N.H. plays the lead role of Eurydice. Her father is portrayed by theatre faculty member Doug Wilcox of Keene, N.H. Student Andrew Bennington of South Berwick, Maine, is Orpheus and Isaiah Lapierre of Greenfield, Mass., plays the Lord of the Underworld. The Greek Chorus of Stones includes students Josh Bernard-Kriegl of Dover, N.H., Chris Hamilton of Weston, Conn., and Justine Park of Claremont, N.H. Student Jacob Lavoie of Nashua, N.H. is assistant director and Ashley Gage of Agawam, Mass. is the stage manager. Christianna Berti of Adams, Mass. and Emily Fitzgerald of Hampstead, N.H. are assistant stage managers.
Related Stories