Keene State College's 40th Annual Children's Literature Festival, October 29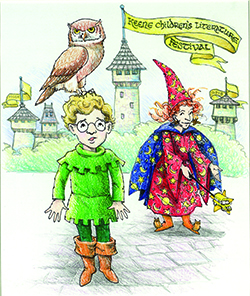 Discussions with Award-Winning Authors and Illustrators Available to Media During Closing Reception
Keene State College will celebrate children's literature during the 40th annual Children's Literature Festival this month. This adult program features award-winning authors and illustrators. The event attracts people from a large geographic region – attendees from 10 U.S. states and Canada have already registered.
When and where:
Saturday, October 29 at 7:30 a.m. doors open; program begins at 9 a.m..
Online registration is now closed, but registration will be open at 7:30 a.m. in Keene State College's Student Center lobby. Registration is $90 ($45 for full-time college students). Breakfast reception at the Student Center. Lunch may be purchased at the Dining Commons starting at 11:30 a.m.
Discussions with authors and illustrators will be held during the closing reception from 4:30 – 5:30 p.m. in Rhodes Hall Atrium.
The Children's Literature Festival was started to promote a love of reading and to provide an opportunity for people to learn how stories and illustrations are created and published by authors and illustrators. The Festival provides new insights into the sharing of books and lessons to young students. The featured speakers for the 40th annual Children's Literature Festival are:
Jonathan Bean, who lives in Pennsylvania, received his first job illustrating for children's literature when he was hired by Cricket in 2004. His first two books won the Boston Globe – Horn Book Award: At Night, his graduate school thesis project, in 2008 and Building Our House in 2013. Other well known titles of books he has created are This Is My House, This Is My School, Big Snow, and Bad Bye, Good Bye. Released earlier this month is Real Cowboys by Kate Hoefler and illustrated by Jonathan.
Lita Judge, who lives in Peterborough, NH, was born on a little island in Alaska, and her love of nature, animals, and wild places was inspired during her early years. Lita's popular titles are in the genres of historical fiction, biography, fantasy and non-fiction. Some of these include Pennies for Elephants, One Thousand Tracings, How Big Were Dinosaurs?, Red Sled, Flight School, and Good Morning to Me! Published earlier this year is Hoot and Peep about two owls on the rooftops of Paris.
Jerry Pinkney, who lives in New York, was named on January 11, 2016, as the recipient of the 2016 Virginia Hamilton Coretta Scott King Award for Lifetime Achievement and also the Laura Ingalls Wilder Award. Jerry won the Caldecott Award in 2010 for The Lion & The Mouse. Five of his books have also received Caldecott Honor Awards: Noah's Ark, The Ugly Ducking, John Henry, The Talking Eggs, and Mirandy and Brother Wind. Coming out in 2016 are Jerry's illustrations for Richard Jackson's In Plain Sight: A Game and his illustrated board book Twinkle, Twinkle, Little Star.
Marilyn Singer, whose home is in Brooklyn, won the 2015 NCTE Award for Excellence in Poetry. Her first book was published in 1976 and she now has authored over 100, the most recent being Miss Mufett or What Came After. Marilyn writes realistic novels, fantasies, non-fiction, fairy tales, picture books, mysteries, and poetry. Among her best-known books are her collections of reverso poems: Mirror, Mirror, Follow, Follow, and Echo, Echo, the latter based on Greek myths. Other popular titles are Rutherford B., Who Was He? Poems About Our Presidents, Talulah's Tutu, and Venom.
Clare Vanderpool, who lives in Kansas, has had an amazing start to her very short career in children's literature. She won the 2011 Newbery Award for Moon Over Manifest, her historical fiction novel set in Kansas in 1918 and 1936. This was the first time in 30 years that an author's first work won the Newbery Award. Clare's second novel, Navigating Early, also historical fiction, has a protagonist who has left Kansas to attend a private school in Maine and has some amazing adventures. It won a 2014 Printz Honor Award and received many starred reviews.
Related Stories