Keene State's New Living Learning Commons Engages New Students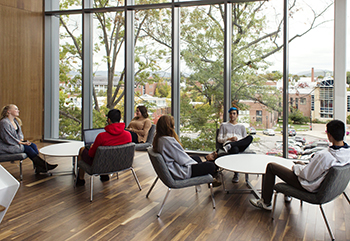 New Sustainable Building Fosters Living Learning Communities for First-Year Students
Keene State College announces a new residential building, called the Keene State College Learning Living Commons (LLC) that is dedicated to first-year students. This state-of-the-art residential facility boasts 11 different communities that provide a variety of opportunities for students to pursue their academic and co-curricular interests in a safe, supportive and dynamic environment. The LLC creates a more seamless transition to college life by providing an environment where faculty and residential staff work collaboratively to nurture communities where students can develop friendships and succeed academically.
"Keene State provides a learning and living environment that helps our students reach their fullest potential, and the addition of the Learning Living Commons is a significant effort that delivers on this promise," said Keene State College President Anne Huot. "The new residence building helps first-year students pursue their interests and engages them in activities and conversations that help them to achieve their academic goals while making connections in the classroom and beyond. The communities in this building help to chart a path forward for students during college and after graduation."
The new building was designed and built with Keene State's sustainability commitment in mind. The College was one of the original signatories of the American College and University President's Climate Commitment, now titled the Carbon Commitment. The College continues to develop projects and an overall plan to significantly reduce greenhouse gas emissions campus-wide. The building's energy-efficient design will help to deliver on its commitment and save on energy costs.
The LLC houses 348 students and 19 classes are taught on the first floor of the building. The various learning living communities open to students include the American Democracy Project, Building Excellence in Science and Technology, Communication and Philosophy, Film Studies, Graphic Design, Health and Wellness, History, Honors Program, Music, Nature and Sustainability, and Women's and Gender Studies.
Related Stories