Theatre and Dance Stages 'A … My Name Is Alice' a Musical Revue About Women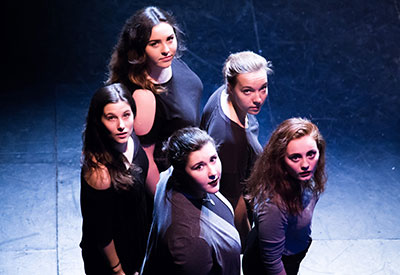 A …My Name is Alice, a witty musical revue that centers around the lives of five women, will be presented Tuesday to Saturday, October 18 to 22, by the Keene State College Department of Theatre and Dance.
A … My Name is Alice, created by American directors Joan Micklin Silver and Julianne Boyd, was first produced in 1983 as a feminist musical revue of 21 songs and sketches performed by a five member cast of women of different ages and types and a variety of relationships. Theatre Professor Kirstin Riegler, who directs the Keene State production, explains that her vision follows the lives of five women coming together to confront their past, present and future hardships, relationships and what they have overcome. We meet a single mother, a divorcee, small town girl with big city dreams, a sex driven firecracker and a woman discovering who she is later in life. Each of the women has a different type of life that is told in a variety of ways through song.
Riegler will stage the production in the intimate Wright Theatre in the round as a group therapy session so that the audience can feel a part of the action. She chose a musical revue because she wanted to work with a piece that a student audience may not be familiar with, yet that can be enjoyed by all ages and genders as well as showcase that musicals come in many shapes and sizes. Riegler, who directed her first musical at KSC last fall, wanted to take the intimate route this season.
She chose the five member cast with the idea that each woman's voice would blend well together and that they could handle multiple roles. Riegler decided that the women would not have names and simply be identified as Woman One, Two, etc. because in her eyes, "Alice is every woman." The name of the production is pulled from how each cast member introduces herself by reciting an adult update on the children's ABC rhyme. For example: "A … my name is Alice, And my husband's name is Adam, And his girlfriend's name is Amy, And my lover's name is Abby, And her husband's name is Arnie, And his boyfriend's name is Allan, And my analyst's name is Arthur, And we're working on my anger."
KSC students in the cast are Sydney Aldrich of Keene, Heather Hunt of Gilmanton, Amy Lesieur of Concord, Emily McIntyre of Marlborough, Mass., and Claire O'Brien, a international exchange student from Dublin, Ireland. Justin Posnanski of Manchester is the stage manager. Thomas Martin, Keene High School choral director, is the pianist.
A …My Name is Alice will be staged Tuesday to Saturday, October 18 to 22, at 7:30 p.m. each evening with a 2 p.m. matinee on Saturday, October 22, in the Wright Theatre of the Redfern Arts Center on the KSC campus. Tickets are $10 for adults, $8 for seniors and youth, and $6 for KSC students. For tickets, call the Redfern Box Office, 603-358-2168 or order online at keene.edu/arts/redfern.
Related Stories