Keene State Fair Brings Career and Graduate School Opportunities to Students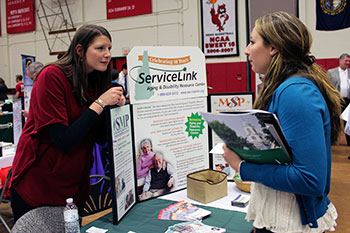 Keene State's Office of Academic and Career Advising is bringing resources to students who want to get a jump on their future careers or graduate studies, during the College's Your Future: Career, Internship, Graduate School & Academic Major Fair. The event is on Thursday, October 13 from 1–3:30 p.m. in the Recreation Center. The event is open to all Keene State students.
During the event, students can connect with potential employers. A number of area companies that are looking for Keene State's talented students as future employees are also partner sponsors of the Fair. Representatives from these businesses offer their own take on how Keene State graduates are a valuable resource for their businesses.
"Our attendance is a must every semester. We wouldn't miss an opportunity to have another talented student from Keene State join our team, help us grow, and advance their own professional development," said Alex Henkel, President, Electronic Imaging Materials, Inc.
Kimberly Smith, Talent Acquisition Manager, Boston Group Human Resources, Enterprise Rent A Car, also cites the fair as a valuable source of talent for her company.
"Enterprise Rent A Car is a leading recruiter of recent college graduates and we have hired many Keene State Interns and Alums who have had much success in our programs. We feel the partnership with Keene State is a great way for Enterprise to strengthen its brand on campus and support programs and opportunities for Keene State students."
"We are very excited to visit KSC on October 13th," said Joanne Muccione, PHR, SHRM-CP, HR Generalist, Moretrench. "In May of 2015, we hired Blake Holton from KSC. Over the past year his knowledge and work ethic has really set the bar for the additional Safety Engineer we are recruiting for. We were so impressed with Blake's school experience that KSC was a go to school for us. We hope that lighting will strike twice and we will find additional Safety Engineer candidates that will be an asset to Moretrench."
Kalie Randlett '15, is a Talent Acquisition Manager at Barton Associates. Her company is sponsoring this year's fair.
"We [Barton Associates] decided to sponsor the Fall 2016 Career and Internship Fair because Keene State students are very successful working at Barton. We currently have 20 KSC alumni who have built their career with us and we hope to hire many more in the future. Our company continues to grow and this Fall Career and Internship Fair will continue to support our consistent growth."
Related Stories