Amanda Pires '16 Publishes Research Paper and Lands Job as Financial Analyst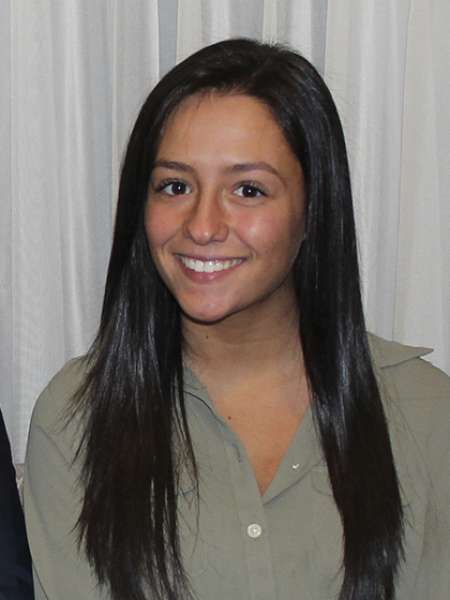 You could say that Amanda Pires '16 is the quintessential success story: a student who came to Keene State from an economically depressed community, accepted challenges and worked hard, and opened doors to professional success. While she was a student here, majoring in economics and minoring in communication and management, she took Dr. Marie Duggan's Econometrics class and decided to find out why the average price of a three-bedroom residence in her hometown of Bridgeport, Connecticut, is $160,000, whereas a similar home in Greenwich will sell for millions. So she began researching how average square footage, school district ranks, unemployment rates, and crime rates affected selling prices of houses throughout 81 towns in Connecticut.
"I originally assumed that crime rates would have the largest impact, but found the exact opposite to be true," Pires said. It turns out that even small crimes are most likely to be reported in wealthy neighborhoods, whereas crime is less often reported in poorer towns and cities. Therefore, she found no significant statistical results from comparing the two crime rates. Pires found that the most statistically significant variables affecting house prices are the house's square footage, followed by the town's unemployment rate. The paper she wrote based on her research, "Finding the Real Value of a Home," was published in the spring 2016 issue of the Undergraduate Business and Economics Research Journal (volume 7).
"Amanda found a love of numbers and a real ability to ferret out their stories in econometrics at Keene State, and she carried through with the professionalism to present and publish her work," Dr. Duggan said. And that professionalism has carried Pires even farther, since she just landed a job as a financial analyst with the Massachusetts Convention Center Authority in Boston.
"Keene really prepared me for life after graduation, because it made me such a well-rounded student," Pires explained. "I brought the fundamentals of finance and communications from my major and minors to my job interviews, but my education also gave me knowledge in other areas such as chemistry, geography, and Spanish. Dr. Duggan, and my other professors, helped me succeed in ways they never could have imagined. Due to the small class sizes, Keene State helped me develop strong relationships with my professors so that I can look to them for guidance and support."
Related Stories