Capitol Steps Returns to the Redfern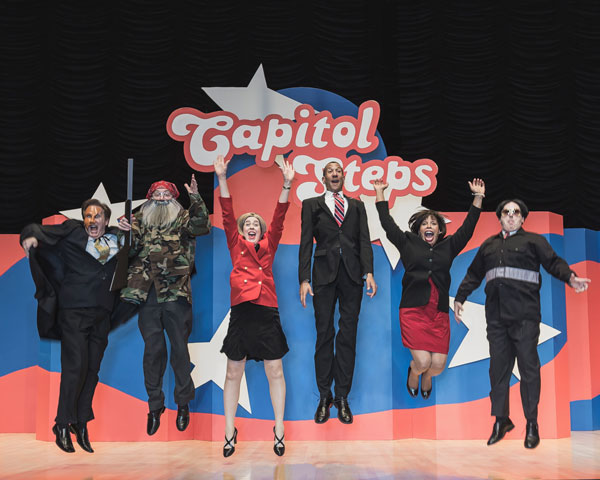 The Capitol Steps returns with a hilarious election year comedy revue to Keene State College's Redfern Arts Center on Friday, September 30. The political satire show based on songs from their current album "What to Expect When You're Electing" begins at 7:30 p.m. in the Redfern's Main Theatre, where Capitol Steps returns every four years to infuse side-splitting levity into the U.S. Presidential Election process.
Before the show, the Keene State College American Democracy Project has invited local political candidates to a meet and greet reception from 6 to 7:30 p.m. in the Harry Davis Room off the Redfern lobby. Stay after the show for a meet and greet reception with members of Capitol Steps in the lobby where they will be selling and signing CDs.
The Capitol Steps, a Washington DC-based comedy troupe that began as a group of Senate Staffers, has been an institution in our nation's Capitol for over thirty years, providing a unique blend of musical and political comedy. Each show consists of tasteful bipartisan lampooning guaranteed to leave both sides of the political spectrum laughing. The troupe started in 1981 and since then they have appeared on "The Today Show," "Nightline," "CBS Evening News" and for many years in specials for National Public Radio.
Their show is constantly changing, strenuously bi-partisan, and includes songs about the election madness, as well as other things in the news, such as "How Do You Solve a Problem Like Crimea," "Ain't No Pipeline, Now It's Gone," and "The iMpossible iWatch."
If you've ever wanted to see Hillary Clinton sing a show tune, Donald Trump belt out a rock song, and New Jersey Governor Chris Christie do a classical ballet, this might just be the show for you!
Tickets to Capitol Steps range from $35 to $50 depending on seating and are $5 for KSC students. For tickets, call the Redfern Box Office at 603-358-2168 or visit <www.keene.edu/arts/redfern>. Ticket discounts are available to people who become members of the Redfern Circle. Membership provides many benefits including preferred seating and invitations to special events. The Redfern also offers a student membership option, which is a great way for students to attend performances together.
The Capitol Steps performance is sponsored by Cambridge Trust Company, Hancock Inn, and The Keene Sentinel, and is a collaboration with the Keene State College American Democracy Project.
Related Stories