A Perilous Journey from Africa to Keene State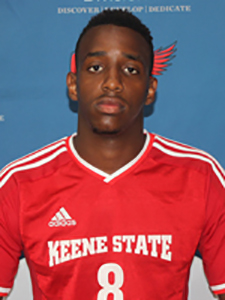 Imagine you're a young eight-year-old boy living in the Congo. It's 2008 and you and your people are fighting for your survival, trapped in a country besieged and engulfed in a lingering civil war, the aftermath of the 1994 genocide between your Tutsi tribe and the Hutu, the tribe of the majority currently in power. While you are fearful for your life, you take comfort from your family and knowing that your father's position as a doctor is held in high esteem in the community, so your chances of being harmed are remote.
Imagine sleeping soundly one night and being suddenly awakened by the sound of rebel Hutu soldiers entering your home. Dazed, confused, you are pulled from your bed, forced at gunpoint to witness your mother being physically abused. When your father and older brother awaken and try to intervene, they are gunned down.
Imagine trying to pick up the pieces of your life, bundling up what's left of your belongings and moving with your mother to neighboring Uganda, where you are received by the United Nations High Commission for Refugees. Your spend six years in a refugee camp living in inhumane conditions – your shelter is a flimsy, tattered tent and your food rations are unsustainable.
Imagine being among the fortunate few selected to come to the United States, taking up residence with your mother in Concord, New Hampshire, where you work feverishly to learn a new culture and language.
Imagine finding refuge and rewards on the soccer field. As a high school senior, you score the winning goal in the state championship game, earning MVP honors and later receive second-team All-State recognition as well as an invitation to play in the prestigious Lions Cup Team.
Imagine a dream come true: admission to college. You decide to further your education and athletic aspirations at Keene State College.
Luck Ndahigwa's journey from Africa to Keene State demonstrates not only his courage but his ability to look away from the horrors of the past and toward a promising future. How did he survive and find hope within despair? Through it all there was always his mother by his side, offering comfort and advice. "There's a reason why things happen, and if you look at them in a negative way you're not going to get anywhere, so most of the time I try to find something positive in them and try to push myself," said Ndahigwa. "If you dwell upon the past it's not going to help at all."
You had the feeling that someone was watching over Luck Ndahigwa long before he arrived at Keene State. Born in 1996 during his country's civil war, he survived a difficult birth, giving his father ample reason to call him "Luck."
But Luck's luck didn't last very long. That terrifying night when he lost his father and brother and saw his mother ravaged by enemy soldiers left a scar that never went away. Anger and bitterness festered during his stay at the refugee camp in Uganda, but his mother was always there to direct his negative energy into something positive. "After the refugee camp I was really full of hate and I really wanted revenge so bad," said Ndahigwa. "But my mom always said you don't pay the bad with the bad. It won't do you any good. If I wanted revenge it wouldn't bring back my dad or my brother. They are always out there protecting me. I know that they are there. And it is my job to make them proud."
Luck Ndahigwa would have a chance to honor the memory of his father and brother – not in Africa, but in the United States. Living as a refugee, in overcrowded improvised conditions, you can't wait to leave. The location of your new home is irrelevant. "At that moment you don't think about where you want to go – you just want to leave," he said.
With the help of the Lutheran Immigration and Refugee Service, Luck and his mother settled into a new home in Concord. Amid strange faces and a foreign language, Ndahigwa found many allies, including Concord High School Principal Gene Connolly and Anna Marie DiPasquale, the ELL (English Language Learner) social worker at the high school who helps "new Americans" adjust academically and culturally to life in this country.
Anxious to start school, Ndahigwa endured the long process of paper work and inoculations. In the meantime, he devoted his time to studies and learning English. "My dad used to say if you want to be a lion you have to live with the lions, so I knew if I wanted to learn English I had to make friends with people that spoke English," said Ndahigwa, who also stayed after school and worked with tutors so he could graduate in two years.
With the encouragement of Connolly, Ndahigwa joined the Concord High soccer team as a senior. After scoring the winning goal in the Crimson Tide's 1-0 championship game over Londonderry, Luck lifted his uniform top to reveal a shirt emblazoned with a picture of Connolly. "I almost got a yellow card after that," said a jubilant Ndahigwa, who still finds levity in life and enjoys clowning around with friends.
Ndahigwa's exploits on the field didn't go unnoticed. While several schools showed interest in recruiting him, Keene State Coach Rick Scott was able to forge a special bond with the talented midfielder. "Someone from Keene State was always at my games," said Ndahigwa. "They cared about me not just as a player, but as a person."
On Thursday, Luck and the rest of his Owl soccer teammates arrived on campus for pre-season training. While the training will be tough at times, Ndahigwa will relish the time getting to know his new teammates and getting to play a sport that has always been his salvation when times were bad. "Every time I play soccer it gives me an inner peace – and that moment I don't think about anything else. I just play," he said.
Luck's mother, Jackie Agasaro, a solid, hardworking and determined woman who works at the local Walmart, shows her love and pride for her son by adorning her home with his trophies and pictures. While they serve as a testament to his accomplishments, her presence and her words have always been the driving force behinds Luck's success. She tells her son, "there are no victims in this family, and don't use past tragedies as an excuse."
As Ndahigwa gets set to leave home and begin and begin a new chapter in his life, his mother reflects on where he's been and where's he's going. With Ndahigwa serving as an interpreter, Agasaro, speaking in Kinyarwanda, the official language of her parents' country, Rwanda, she says, "It's a blessing from God that Luck will be able to come to school after all that he's been through."
An emotional Agasaro tells her son, "The only solution to life is to take school serious so we may have a better future."
As he's always done, Ndahigwa will heed the advice of his mother and try to make her happy. "She says she is really proud of me and wants me to do well at school," he said. "I will not let her down."
Related Stories