Writing Badly to Learn Writing Well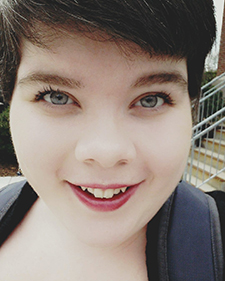 "The girl screamed, the wind rustled, something moved in the night closer and closer; the moon hung heavily over the night, white as a pearl, blood dripped from Vlad's mouth, the girl's pale body hung in his hands, sparkling in the moonlight—he was a vampire, after all." – Heather Fougere.
And that's just the kind of passionate prose that can win you an award – especially when it's an entrant in the Bulwer-Lytton Fiction Contest, a whimsical international literary competition that challenges entrants to compose the opening sentence to the worst of all possible novels.
And in this year's contest, junior criminal justice and sociology major with a writing minor Heather Fougere's breathless prose was a shoo-in for a dishonorable mention.
"Here's why this is pretty cool," explained Professor of English Kirsti Sandy. "People enter from around the world, and it is actually very hard to get selected. You have to deliberately try to create bad prose (there is an art to it), and it has to be a certain kind and style of bad prose."
Fougere began her award-winning effort in Dr. Sandy's Writing with Style class, where the class tried to define bad writing.
"I would say the most challenging thing about writing such a bad prose was making it good while still being bad," Fougere said. "I was in a class to better my writing, and it was hard to forget all the rules I had just spent weeks learning. … I took Dr. Sandy's class because I really wanted to improve my writing, and her class did just that. It has been one of the best writing classes I have taken at college, and I use the skills I learned in it every day."
Related Stories