Keene State Sends 46 to NH-INBRE Annual Meeting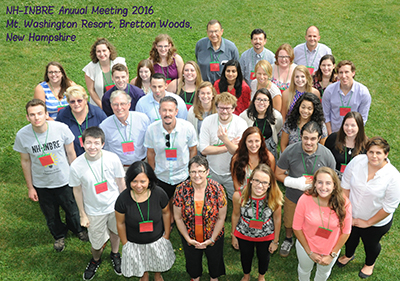 Offering opportunities for professional growth is one of the most important benefits a college can offer its students and faculty, and from August 14–16, 30 Keene State students and 16 faculty and staff members joined 188 representatives from INBRE partner institutions at the annual meeting of the New Hampshire IDeA Network of Biological Research Excellence (NH-INBRE) held at the Omni Mt. Washington Resort in Bretton Woods, New Hampshire. This meeting is planned to enhance the scientific, scholarly, and administrative interactions within the NH-INBRE network.
Keene State students distinguished themselves as they gave 17 poster presentations. Haley Zanga received the Best Poster Award for "Light-Induced Depigmentation in Planarians – An Animal Model of Acute Porphyrias." Evan Dunkley presented his cancer prevention research, and Megan Pirtle talked about the value of computer-assisted language training for people with autism.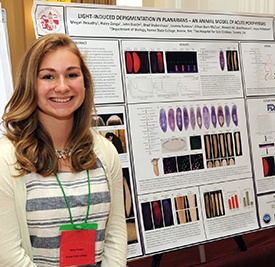 The students also attended sessions on "Life in the Lab" and "Graduate School 101-preparing, interviewing and applying." Faculty and staff members attended a grant-writing workshop designed to help them design successful proposals for funding from the National Institutes of Health. Attendees also had the opportunity to connect with peers and meet new partners from other colleges and universities engaged in biomedical research and training.
The NH-INBRE is a state-wide initiative led by the Geisel School of Medicine at Dartmouth College and the University of New Hampshire to develop a coordinated network of biomedical research and training. It aims to stimulate science and research culture on campus, develop biomedical research infrastructure, create research opportunities for students and faculty, and advance bioinformatics research activities. It supports research in human health, neurobiology and behavior, molecular and cellular biology, and microbial pathogenesis. The NH-INBRE program at KSC supports research through providing student employment, travel, research supplies, equipment, and other research-related needs such as funding for speakers, software, or data analysis.
The NH-INBRE is supported by an Institutional Development Award (IDeA) from the National Institute of General Medical Sciences of the National Institutes of Health under grant number P20GM103506.
Related Stories