Academic and Career Advising Provides Options for Grads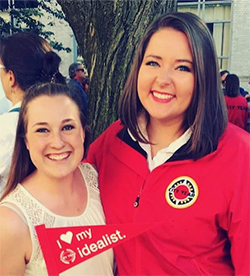 It's important to have options when you graduate, and the Academic and Career Advising (ACA) Staff at Keene State College assist students and alumni in exploring numerous career options. While the majority of Keene State graduates enter the work force or return to school to further their education, some students like Alyson Schaffrick '15 from Bristol, Connecticut, take advantage of many service-related opportunities.
"I remember my senior year sitting in the ACA office and wondering what I was going to do when I graduated," said Schaffrick, who majored in psychology. "I saw a table in the student union looking for City Year applicants and decided to look into it."
An education-focused organization founded in 1988 dedicated to helping students and schools succeed, City Year provides some Keene State grads an opportunity to gain valuable classroom experience to start their careers.
But these are not ordinary classrooms. City Year, a federally funded member of the AmeriCorps national service network, partners with public schools in 27 urban, high-poverty communities across the country. Once accepted into the program, Keene State grads not only have a chance to make a positive impact with their students as teachers and mentors, but in many cases alter their own lives as well. "It was such an amazing experience. It changed who I am, what I believe in," said Kelsey Sobestanovich '15 from Southington, Connecticut, who spent last year working at a middle school in San Antonio, Texas.
Current Keene State seniors have an opportunity to learn about City Year and share the same experience during the first career clinic on Wednesday, Sept. 7 from 11–1 p.m. in the library. ACA will feature a variety of non-profits at upcoming Career Clinics. In addition to City Year on September 7th, the Peace Corps will be featured on Wednesday, October 5th 11–1 in Mason Library. For more information, refer to ACA's Events Page.
"I would definitely recommend it to other Keene State students, especially those that want to work in education or social work," said Chelsea Day '15, a psychology major from Cheshire, Connecticut, who spent last year at a middle school in Roslindale, Massachusetts. "We had different people on my team who were going into a variety of fields."
"It was probably one of the hardest and best years of my life, but I wouldn't change anything," said Day, who worked with students in an eighth grade math class. "You're not only there to teach, but deal with attendance and behavioral issues. It was basically building relationships with students, being someone who was with them for the whole year."
"I just learned a lot about pushing myself and how to confront situations I never imagined I'd get myself into," said Schaffrick, who was also assigned to the school in Roslindale. "I also learned to appreciate my education. I now value my degree so much more a year out then I did then on the day that I graduated."
Both Day, who is enrolled in a MSW program at UConn this fall, and Schaffrick, who currently works with EF (Education First) high school exchange program in Cambridge, Massachusetts, said their City Year experience has provided them with a career path.
Looking to experience a different part of the country and work with a diverse group of students, Sobestanovich, who earned her degree in elementary education, worked in a sixth grade math class with about 70 students. "They were the most challenging kids I could ever imagine," she said. "But you also have those golden moments when you have a breakthrough with kids who everyone else had given up on."
Sobestanovich recently accepted a job at a Montessori School in Hartford. "I changed so much personally and professionally, what I believe in and what I want to teach. City Year really prepares you for the real world."
Related Stories