Campus Book Launch for Dr. Waller's Confronting Evil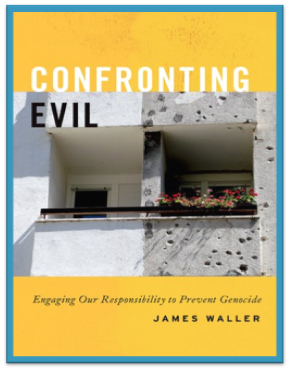 September 8, 2016, 3 p.m.
Book Launch and Reception
Centennial Hall, Keene State College Alumni Center
Dr. James Waller's Confronting Evil: Engaging our Responsibility to Prevent Genocide (Oxford University Press, 2016)
Drawing on over two decades of primary research and scholarship from a wide range of disciplinary perspectives, Confronting Evil: Engaging Our Responsibility to Prevent Genocide is grounded in the belief that preventing mass atrocity is an achievable goal, but only if we have the collective will to do so. With remarkable insight, Dr. James Waller challenges each of us to accept our responsibilities as global citizens – in whichever role and place we find ourselves – and to think critically about one of the world's most pressing human rights issues in which there are no sidelines, only sides.
Dr. James Waller is the Cohen Professor of Holocaust and Genocide Studies at Keene State College and Director of Academic Programs with the Auschwitz Institute for Peace and Reconciliation. He is the editor-in-chief for Genocide Studies and Prevention and a member of the international Genocide Prevention Advisory Network. Waller is also an Honorary Member of the International Expert Team of the Institute for Research of Genocide Canada and has been named Honorary Visiting Research Fellow at the Institute for the Study of Conflict Transformation and Social Justice at Queen's University in Belfast Northern Ireland.
Sponsored by the Keene State College School of Arts and Humanities.
Related Stories