Thorne-Sagendorph Exhibitions Explore Contemporary Social Issues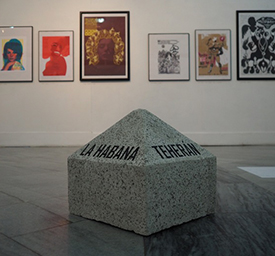 Keene State College's Thorne-Sagendorph Art Gallery is announcing upcoming exhibitions and events that offer local and global perspectives on contemporary social commentary and images. The Thorne Gallery is providing several opportunities to engage with artists, curators, and the Thorne's first Artist in Residence.
Schedule of exhibitions and events held at the Gallery:
Seattle-Havana-Tehran Poster Show: More than 60 recent contemporary arts and culture-related posters survey pop culture and design from the U.S., Cuba, and Iran, in a major exhibition coming directly from stops in Seattle, Havana, and Tehran.
Show dates: August 30–December 4, 2016
Roundtable and gallery walk-through with curators Daniel R. Smith of Seattle, Pepe Menéndez of Havana, and Iman Raad of Tehran on Tuesday, August 30, from 4–6 p.m. This will be the first time the three curators will meet to discuss the project.
InCiteful Clay: Contemporary Ceramics and Social Commentary: Selection of 27 ceramics looks at artists who have issued provocative critiques of current social and political inequities.
Exhibition dates: August 30–October 20, 2016
Gallery walk-through with Harvard Ceramics Program artists Kathy King and Mark Burns on Tuesday, September 20 from Noon–1 p.m.
Lecture and reception with exhibition curator Judith F. Schwartz, PhD, New York University on Thursday, October 13, at 5:30 p.m.
nCiteful Clay is a Program of ExhibitsUSA, a national division of Mid-America Arts Alliance and The National Endowment for the Arts
Artist in Residence Katharina Rooney presents the first in a series of residency-based projects at the Thorne that includes a group of existing pieces, studies for new works, and documentation of her artistic process.
Exhibition dates: August 30–October 20, 2016
Hands-on collaborative workshop with Katharina on Saturday, October 1, from 1–3 p.m.
"Art, design, music, and collaboration help people to see the world from multiple perspectives. Art that speaks to the important issues of today raises awareness and engages people in new ideas and ways of thinking," said Keene State College Thorne-Sagendorph Art Gallery Director Brian Wallace. "These exhibitions are at the Thorne because we want each person who leaves that gallery to gain knowledge, perspective, or understanding of other cultures, political situations, and geographies."
More details on each of these exhibitions can be found at keene.edu/tsag/.
2016-17 Thorne programs and exhibitions are presented with the generous support of the Robert P. Hubbard Trust.
Related Stories