Summer Stock and Camps Keep Students and Recent Alumni in Spotlight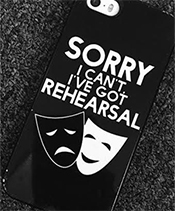 Summer might be the time for relaxation and a reprieve from the rigors of a busy school schedule, but many Keene State students and recent alumni from the College's Theatre and Dance Department have left the familiarity of the Redfern Arts Center to gain valuable experience in summer stock companies and camps throughout New England. Keene State faculty applaud and support dedicated students and alumni who understand the show must go on – regardless of the season.
"Summer professional and pre-professional job opportunities only benefit our theatre and dance students by continuing to make them well rounded in all elements of the performing arts," said Assistant Professor of Theatre Kirstin Riegler Hensley.
"Putting theory into practice is at the heart of everything that the theatre and dance department is about. So the ability to do that beyond the walls of the Redfern is something we encourage all of the students to do," said Tim L'Ecuyer, an adjunct in the College's Theatre and Dance Department and education director at the Winnipesaukee Playhouse in Meredith, New Hampshire.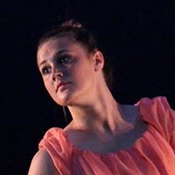 Makayla Ferrick
Makayla Ferrick is attending the Bates College Dance Festival in Lewiston, Maine, before returning to Keene State this fall to complete her senior year. The dance and management major from Byfield, Massachusetts, will attend a three-week program where she will work and collaborate with choreographers and dance companies from across the country. Marcia Murdock, the director of the dance program at Keene State College, recommended the Festival to Ferrick. "She thought it would be a great learning experience that I can share with others students when I return to campus," Murdock said.
Ferrick says one of her favorite classes at Keene State was Research and Choreography, taught by now-Provost William Seigh, where she had to develop a piece from scratch. The piece was selected to be part of the end-of-the-year "Evening of Dance" and later performed at a conference in Springfield, Massachusetts. Ferrick hopes to operate her own studio someday.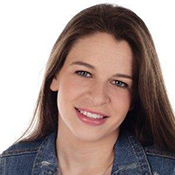 Mackenzie Klem
Klem, who received her degree in theatre and dance in May 2016, has as a busy summer planned. The Harvard, Massachusetts, native will once again be performing at the Apron Theater Co. in Putney, Vermont, and then leave for Australia where she will audition for the National Institute of Dramatic Art. In Putney, she will be a member of the four-person cast of What Rhymes with America.
"Theatre brought out the person I am today," said the energetic Klem. At Keene State, Klem was inspired by Riegler Hensley, who forced her out of her comfort zone and into different genres, including puppeteering in The Phantom Tollbooth. She also broadened her skills, working behind the scenes and as a member of 3 Ways Til Sunday, a Keene State improv theatre comedy troupe.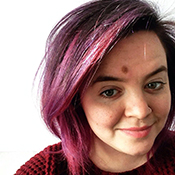 Lissy Barnes Flint
Lissy Barnes Flint '16 returns this summer to the award-winning International Residence Theatre Company on the United State/Canada border in Derbyline, Vermont, serving as stage manager for the musical Seussical. "I had several options coming out of college, which was wonderful and surprising," said Barnes Flint, before deciding to stay with her stepmother's theatre company, QNEK Productions. "I've done children's theatre in the past and love working with kids."
Originally from Burlington, Vermont, Barnes Flint quickly realized that her calling was more behind the curtain than in front of it. Transferring to Keene State from Franklin Pierce University as a sophomore, Barnes Flint jumped right into the theater scene at Keene State working in a variety of behind-the-scene roles ranging from technical and sound engineer to scene designing and stage manager. Working her way up the ranks, Barnes Flint advocated and got to serve as stage manager on last year's production of Little Women.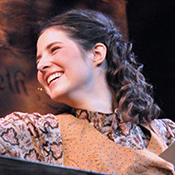 Heather Hunt
As a sophomore, Heather Hunt already has a list of theatre credits worthy of applause. Earning the part of "Beth" in last fall's production of Little Women at Keene State, the theatre major from Gilmanton, New Hampshire, will reprise her role this summer at the Seacoast Repertory Theatre in Portsmouth. "I'm thrilled to be doing it again," said Hunt. "I've really become attached to the character."
How did she land the part of Beth as a freshman? "I went in as confident as I could and willing to do anything, including a call for singers and dancers," she said, claiming that she's not a dancer.
Hunt moves back to campus the day after Little Women closes. "I'm really looking forward to coming back to Keene State and being a part of another show," said Hunt. "I really like working with the faculty. They're not only knowledgable and some of the most brilliant people I know, but also well connected. It's great to know them and learn from them."
Related Stories