I'm Coming to Keene State: Anna DePasquale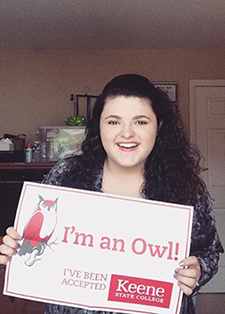 Serving as the editor and chief of her Shelton (CT) High School yearbook as a senior, Anna DePasquale and her staff decided on a "journey" theme, including a cover that resembles a suitcase. "I'm a true believer in the premise that where you've been and the experiences that you've had makes you who you are as a person," she said. "It's something that's very close to my heart."
DePasquale will soon embark on another journey, when she starts at Keene State College this fall. "I'd like to think of it as a clean slate, but I'm also bringing my experiences and my past with me to College," she said. "But I'm looking forward to making new memories."
Describing herself as outgoing and adventurous, DePasquale expresses her creative side by dancing, painting, and writing. In addition to her work with the school yearbook, DePasquale also serves as the community editor and chief of Odyssey, a social content platform that discovers and shares a chorus of millennial voices. "I really like to focus on stories that people sometimes don't feel comfortable talking about, like the recent tragedies in Dallas and Baton Rouge," said DePasquale, who hopes to work for the Keene State yearbook and newspaper.
A go-getter, DePasquale started looking at schools as a sophomore. Her mother suggested she look at Keene State.
A tour of campus and a walk down town sealed the deal. "I knew after I left that I wanted to be there," said DePasquale, who hopes to major in sociology and possibly minor in women's and gender studies or communication.
Anna DePasquale won't be taking the journey to Keene alone. Concerned that her daughter might have some trepidation about living so far from home, Barbara DePasquale promised Anna that she would move to wherever she was going to school. "Thinking that she would never take me up on that, I came up and fell in love with Keene, too," said Barbara DePasquale, who moved to the Elm City in June. "We're all settled in and I love it."
Even though she will be close to home, Anna will be living in a dorm at Keene State – which is fine with her mother. "I want her to get the complete school experience," she said.
Related Stories