We're coming to Keene State: Jillian Decker and Jill Olson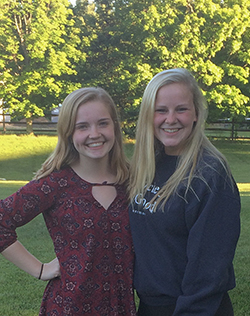 Keene State College will bring two friends together this fall. Jillian Decker and Jill Olson first met as second-graders growing up in Sterling, Massachusetts. After attending the same elementary school, the two went their separate ways. Together again, Decker and Olson not only rekindled their friendship in high school, but also will be attending Keene State College. "It's going to be nice to see a familiar face," said Olson. "I think it's funny that we're going to reconnect again."
After drifting apart, Decker, who went to a local charter school, and Olson, who remained in the public school system, realized that they had a lot in common. In addition to being in the same classes at Wachusett Regional High School, the two worked at the Wachusett Mountain Ski Area in nearby Princeton, Massachusetts. Decker, a snowboard enthusiast, and Olson, a devoted skier, said one of the reasons they chose Keene State was to be close to the slopes.
Decker, who received a scholarship from her hometown, hopes to do community service work while at Keene State. Decker knows first-hand the feeling of fulfillment that comes with helping others. While in high school, she worked with Sherry's Helpers, a club that volunteers to do jobs around the community, and Special Olympics.
It didn't take long for Decker to choose Keene State. "When I went for the tour it felt like home the second I walked on campus," she said.
Decker and her family are no strangers to Keene State. They often came up to the Monadnock area for family trips and to fish and hunt. Decker plans to major in criminal justice and work as an environmental police officer.
Olson couples her love for skiing with a passion for poetry. Using it as a coping method to overcome some difficult times in high school, Olson has had her work published in local newspapers and books. She hopes to join the Alive Poets Society slam poetry team as well as the ski squad at Keene State.
Considering psychology or English as possible majors, Olson said she can't wait to return to campus. "I'm counting down the days," she said.
Related Stories