Longtime Arborist Garland Honored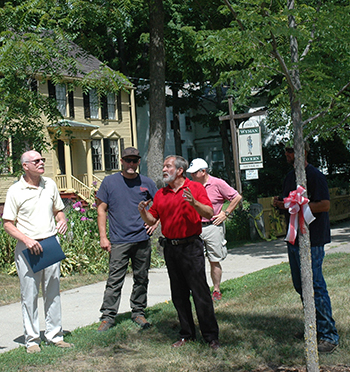 How do you recognize a longtime arborist? That's simple – you plant a tree in his honor. That's just what Keene State College did on July 26, when it honored Jeff Garland, who served as the arborist at the College for 17 years.
Garland, ironically speaking from atop a stump, was touched by the outpouring of people from the College and Keene community who came out to honor him. "It means everything to me," he said. "It validates how I felt about trees. I've always had an interest in the history of arbor culture in the state, and Keene has always been at the forefront of it. The fact that the Keene State grounds can ameliorate Keene's landscape just made me very happy. I'm so overwhelmed and happy about this honor."
Arriving at Keene State in 1996, Garland, who resided in Rindge, New Hampshire, saw his love for trees and the environment take root around campus. In addition to using his expertise to create beautiful landscapes, he helped develop an arboretum, and relished his role of giving tree tours to second graders all the way up college students. By the time Garland retired in 2012, he helped inventory over 1,000 trees with a net value of over 3.5 million dollars. "Jeff gave credibility to Keene State's reputation as a college campus with a beautiful tree collection," said Bud Winsor, the College's assistant director of physical plant – grounds. "Whenever a question came up about the trees, everyone sought out Jeff's advice and expertise."
Jay Kahn, Keene State's former vice president for finance and planning, said that Garland was not only a lover of trees, but a lover of the aesthetics of the environment. "Jeff understood how the mosaic of a landscape fits together and he became one of the key architects of the beauty of Keene State," he said. "We owe a great debt to Jeff."
Following a proclamation by Keene Mayor Kendall Lane declaring July 26, 2016, as Jeff Garland Day in Keene, the large group walked over to the corner of Bruder and Main streets to view the tree and plaque which honored Garland for his contribution to Keene State and the Keene community. It's no accident that Winsor and current arborist Noah Washburn and campus gardner Joe Britton selected a Kentucky coffee tree to plant in Garland's honor. The tree, which will grow to about 80 feet, is noted for its woody branches and leaves and needs little maintenance.
"Keene has a tremendous and rich history in arbor culture, and I'm proud I could help a little bit in being a liaison between Keene State and the city," said Garland, who was twice elected to serve as the president of the New Hampshire Arborist Association. "I did enjoy all the students and the young people that I worked with, and I feel so wonderful that I'm passing the baton to Noah and Joe and young people like them. Our future is in good hands."
Related Stories