A Feast for a Future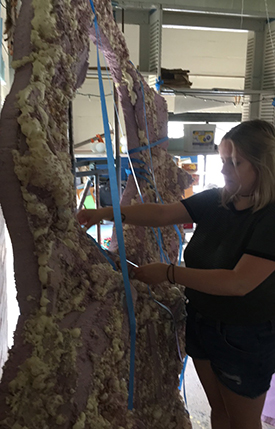 Senior BFA major with a focus in sculpture Caitlin Calhoun won a 2016 SURF grant to create her sculpture project, "A Feast for a Future," through which she intends to address the negative impact we are having globally while expressing a wide range of concerns, such as environmental, social, and human and animal rights issues.
"People feed on the energies of other people, animals, and our great Earth, but not always in a positive way," the Hudson, New Hampshire, native observed. "Ideally, we should live harmoniously, rather than in our current situation, which is fragmented. I'm working on a three-part project that includes a central large-scale metal sculpture cloaked in found objects, surrounded by several smaller sculptures with a direct reference back to the main work, and finally a 'painting' on the wall created by shadows cast from hanging illuminated objects.
The grant has given her hope that she can make a living as an artist. "This project has also opened my mind even further as to what materials I can use," she said. "As a sculptor, the possibilities are endless, which can be a bit intimidating, and now I have more experience with even more materials that will aid me in the future as I set out into the art world."
Related Stories